Sharpton, Martin Attorney Question Zimmerman Jury Selection: Can Mostly-White Panel Give 'Equal Justice?'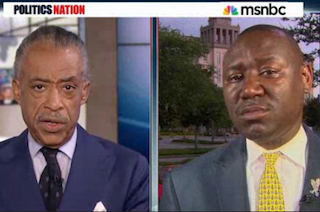 Following jury selection in the George Zimmerman murder trial, which features almost all white jurors for a racially-charged case, MSNBC host Al Sharpton asked Benjamin Crump, the attorney of Trayvon Martin's family, whether the trial would be fair.
"We've said all along that this is a case about equal justice," Crump said. "Equal justice under the law isn't a black value, it's not a white value, it's an American value. With the makeup of this jury—five white women and one Hispanic—the question is can every American get equal justice no matter who sits on your jury panel?"
Crump added that the Martin family was "putting their faith in the justice system and they pray that it doesn't fail them."
Sharpton drew Crump's attention to Juror B-37, who described the protests in Sanford as "riots" and had a concealed weapons permit.
"I was down there and helped organize some of the protests asking for a trial," Sharpton said. "I never saw rioting and never heard of rioting when I was there."
"That's what we've been saying all along," Crump replied. "Everybody who protested on behalf of Trayvon Martin was very peaceful. All his parents have ever asked for is peaceful justice."
"The question I really have, Reverend Sharpton: once the jury bases their verdict on the evidence—and the evidence is overwhelming—and they come back with a just verdict holding George Zimmerman guilty of killing Trayvon Martin, will the other guys act right?" Crump asked. "That's the question we don't know. We know how everybody who supported Trayvon Martin has acted thus far, and they've been very peaceful."
"I would hope that we get fairness," Sharpton said. "I think, though, we must deal with what the obvious is in terms of what the county demographics are, what is on the jury. But we don't think people can be fair or unfair based on who they are. But we think the system ought to always be questioned."
Watch the exchange here, via MSNBC:
—
>> Follow Evan McMurry (@evanmcmurry) on Twitter
Have a tip we should know? tips@mediaite.com