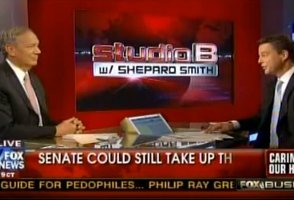 The 9/11 First Responders bill still hasn't passed the Senate, Sen. John Kyl is "skeptical about that bill," and Shepard Smith is outraged. Today, he addressed the bill again with former New York Governor George Pataki, and it's safe to say he's still not happy.
Smith was so unhappy, in fact, that he read off a list of Republican senators the show contacted…who then declined to speak with him about the issue. There were several especially prominent names on the list, including Jim DeMint, Mitch McConnell, and the aforementioned John Kyl. And the list of those who never responded in any way was just as notable, with names like Lindsey Graham, Orrin Hatch, and John McCain. It's safe to say that no one on those lists caqme out of this segment looking particularly good.
Pataki, for his part, wasn't thrilled either, and was adamant that "families are suffering today," and that "we need this law." Smith replied that this was "great to hear," but lamented that it took Jon Stewart devoting the entirety of his last show of the year to the issue to so much as get both sides of the political aisle "on the same page." Pataki defended Republicans for making the extension of the Bush tax cuts priority No. 1, but Smith noted that "both sides didn't come to the same page after the tax deal went through."
Video of the segment, via Fox News, below. Smith and Pataki, frankly, make for a tough-to-argue-against team on this issue.
Have a tip we should know? tips@mediaite.com