Shep Smith On Airport Security: 'We Need To Stop Freaking Out Every Time Something Happens'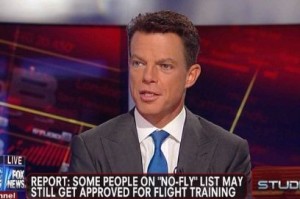 During a hearing earlier today on the hill, members of Congress were shocked to discover that people on the TSA's no-fly list are still allowed to go to flight school. On Studio B today, Shepard Smith took note of this important news, but used the opportunity to bash all the "freaking out" that goes on every time something happens at an airport and people shouldn't "bankrupt ourselves" for the sake of overblown security.

RELATED: Shep: 'Don't Say Nobody Warned You When Some TSA Agent Starts Touching Your Pie'
Fox News' Trace Gallagher set up the clip of a TSA official admitting that the agency has no way of knowing whether suspected terrorists are learning how to fly planes in the United States. Gallagher explained that when applying for a pilot's license, people need to undergo a background check, but said terrorists generally don't worry about getting the actual license.
Smith and Gallagher also brought up issues with airport security and how the TSA is spending money to keep people safe at the airport. Smith ended the segment by ripping into saying people need to calm down and the government can't just keep going crazy with security upgrades following disasters.
"You can't prevent everything. I wonder when we're going to come to the realiztion, a loaded question like, 'Can the TSA assure us that there's no foreign terrorists–-' You can't assure anybody of anything, and we can't stop everything. Things are going to happen. And we need to stop freaking out every time something happens."
He ended by saying "it's stupid" to "bankrupt ourselves" with unrealistic ways to beef up security.
Watch the video below, courtesy of Fox News:
—–
Follow Josh Feldman on Twitter: @feldmaniac
Have a tip we should know? tips@mediaite.com
Josh Feldman - Senior Editor