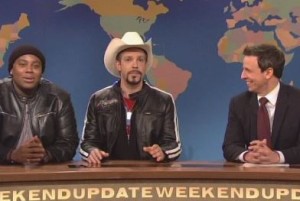 Country music superstar Brad Paisley and old-school rap legend-turned-TV star LL Cool J were the subjects of progressively bigger and deffer criticism this week over their well-intentioned but thoroughly awful new track, Accidental Racist. On tonight's Saturday Night Live, the duo were skewered during the show's Weekend Update segment, as their characters declared victory over racism in a mock interview with anchor Seth Meyers. They also copped to the fact that the song wasn't perfect, or "even good. Musically or lyrically," and performed a deleted verse from the song.
Accidental Racist, which posits the wearing of Confederate flag apparel as merely an acceptable expression of Lynyrd Skynyrd fandom, and suggests that tolerance of gold chains is a fair exchange for letting slavery "bygones be bygones," has become an almost instant pop-culture touchstone. As brutal as the criticism has been, though, SNL's satire of the duo was worse, biting them hard for the facile presumption of the song ("We did it. Racism's over, y'all!), the stars' bourgeois point of view ("What i wanted to do was show folks the gritty racial reality of a man at Starbucks talking to his barista."), LL's motivation for doing the project ("I answered the hpone the way I always do: brrrrrr! 'I'll do it!'"), and his faded street rep ("I knew I was risking my reputation as the most lowdown cast member of NCIS.").
They also offered up a few new measures of the song, in which SNL's LL offers "If you think NCIS is good, I'll forget the Aryan Brotherhood."
It should also be noted that during the balance of Weekend Update, anchor Seth Meyers did not make a single mention of the Kermit Gosnell murder trial.
Here's the clip, from SNL:

Have a tip we should know? tips@mediaite.com