Soledad O'Brien To Romney Press Secretary On Job Numbers: 'I'm Going To Correct You On That If I Can'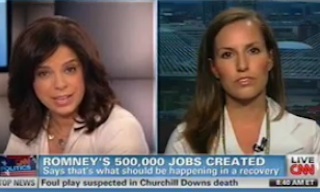 Mitt Romney's press secretary Andrea Saul stopped by CNN's Starting Point on Monday, and took aim at President Obama's job creation numbers, which she claimed were in the red.
"President Obama hasn't created a net single new job," Saul asserted. "And so we need someone that actually has the experience, has actually done these things, balanced budgets, instead of someone who is just offering up political gimmicks and trying to tear down his opponent instead of looking at the full part of his record."
"When you say hasn't created net jobs, of course, you're talking about there was so much jobless that even started to happen before the President came in," O'Brien said. "They are rebuilding from that so I'm going to correct you on that if I can."
"Well, no, from the start when he started his presidency," Saul contended. "I'm not counting from before he started. Since he started his presidency, he has not created any jobs. Not when you look at the full picture of the economy."
"Right, we are talking about the economic collapse, so you're going down, right?" O'Brien continued. "And we're talking about rebuilding so I think people could argue those have been jobs created as an economic collapse is trying to rebound…"
The Washington Post's Greg Sargent notes that fact checkers have questioned the Romney campaign's assertion that Obama has a net job loss when many of those jobs were lost before his policies could take effect.
The Wall Street Journal's Sudeep Reddy reported last week that total private payrolls are now higher than when Obama first took office. "The latest count put private-sector jobs at about 111 million in April (reported as 111.02 million), or 35,000 jobs more than the January 2009 level. Private payrolls as of April were up 760,000 from Obama's first full month in office in February 2009."
Watch O'Brien take Saul to task over her comments on Obama below via CNN:
Have a tip we should know? tips@mediaite.com