Stelter: TV Purging Anti-Gay Hosts Risks 'Matching Intolerance with More Intolerance'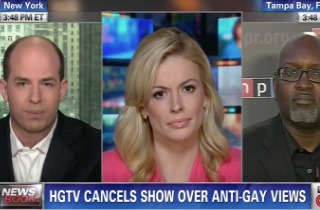 HGTV caused a stir this week when they announced that they would not air a show pilot after receiving complaints about hosts' views on same-sex marriage. Two brothers who were slated to host Flip It Forward were let go from the network when it was learned they attended and helped organize a rally opposing gay marriage and has expressed "moral" objections to same-sex marriage. On Thursday, CNN's Reliable Sources host Brian Stelter warned that this trend among television networks may be perceived as equally intolerant.

"There is a risk, though, I think of matching perceived intolerance with more intolerance," Stelter said. "If you are someone at home who's looking at this thinking why are they taking away these brothers TV show simply because of what they believe in the personal life, the answer, part of the answer to that, is diversity in the media."
RELATED: HGTV Cancels Pilot After Complaints over Hosts' Anti-Gay Views
Stelter said there should be a diverse array of owners so that these brothers could find a new show on another network. NPR media critic Eric Deggans disagreed and said that, if the views of these hosts were centered on intolerance toward African-Americans rather than gays, they would be unable to get a show anywhere because those views would reflect poorly on their employer.
Correction May 8, 2014, 5:38 p.m.: This post has been updated to reflect that at least one of the brothers helped organize the anti-same-sex marriage rally as well as attended it.
Watch the clip below via CNN:
[Image via screengrab]
— —
>> Follow Noah Rothman (@NoahCRothman) on Twitter
Have a tip we should know? tips@mediaite.com