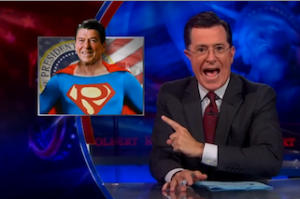 Fox News' Bill O'Reilly has spent much of the last week simultaneously arguing in favor of U.S. strikes in Syria and criticizing President Obama for not forcibly removing Bashar al-Assad from power, as he suggests President Ronald Reagan would have done were he still alive and in office. But last night on The Colbert Report, Stephen Colbert told O'Reilly he must not be thinking of "old" President Reagan but rather "hypothetical, contemporary Super Reagan."
Colbert suggested Obama should be watching Fox News to "tell him what he should have done" on Syria, or rather, "who he should have been." After playing some of biggest Fox News Reagan name-drops from the past week, Colbert explained, "We conservatives have an uncanny ability to know what Ronald Reagan would do at any given time." Of course, that special sense only covers what Reagan would do today, not back in the 1980's when he "looked the other way" when Saddam Hussein used chemical weapons against Iranian troops and his own Kurdish citizens.
No, O'Reilly must have meant "Super Reagan," who "never raised taxes, or tripled the deficit, and who knocked down the Berlin Wall using his nut sack as a wrecking ball."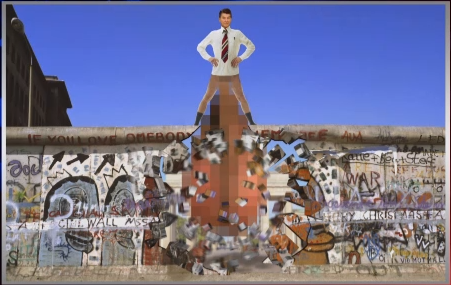 Colbert used the opportunity to play "fan fiction foreign policy," with appearances by the Joker, Skeletor and "Spider-Reagan." Because as long as we're making things up, we might as well have a little fun, right?
Watch video below, via Comedy Central:
[photo via screengrab]
— —
>> Follow Matt Wilstein (@TheMattWilstein) on Twitter
Have a tip we should know? tips@mediaite.com