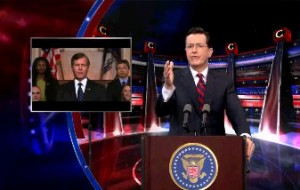 For many TV viewers, the most eagerly anticipated post-State of the Union remarks were neither the GOP response from newly-elected Virginia governor Bob McDonnell, nor reactions from any of the various TV reporters and pundits covering the proceedings – they were jokes from the fake reporter/pundit team of Jon Stewart and Stephen Colbert. The two tape their shows in advance, so they couldn't offer their full remarks until last night – and they said largely the same thing (at least about McDonnell's rebuttal), though Colbert had a more inventive way of doing it.
Stewart began by noting the unusually elaborate backdrop for the GOP response, leading him to call McDonnell "President of the United Republican States of America" and the overall address a "fun-size State of the Union." Colbert took a similar route, dubbing McDonnell the "President Governor of Virginia" and relegating the status of President Barack Obama's State of the Union address to "floundering pre-buttal." (This is where the hosts differed; Stewart focused his Obama comments on the high volume of criticism in the president's speech, aimed in all directions.) All in all, while Stewart's & Colbert's barbs were amusing, they were too similar – and not quite sharp enough – to represent the very best of either comedian.
What did represent the best of Colbert was his method of delivery. He delivered his remarks via his very own State of the Union address, complete with an introduction as "the Stephen Colbert of the United States," over-enthusiastic greetings upon his entrance into the studio, delivering a fake baby, a conveniently-placed vending machine, and even a personalized podium. It appears to be the first time he's done a gag like this – a search for similar State-of-the-Union-themed videos returned nothing like the opening to last night's show. It's hard to imagine how he'll top this idea for future addresses – he can't get much more over-the-top – and he may very well not even try. But maybe one S(tephen)C(olbert)OTUS address is enough – after saving one of hottest political nights of the year from merely lukewarm comedic reactions, where can he go but down? Check it out for yourself below.
Have a tip we should know? tips@mediaite.com