Steve Doocy to Michelle Malkin: If Chris Lane Black, Al Sharpton Would Be Rallying and Making T-Shirts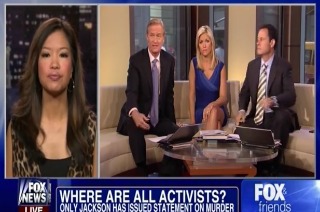 On Thursday morning's Fox & Friends, the hosts interviewed conservative columnist Michelle Malkin and asked her for her thoughts on the senseless killing of Australian college student Christopher Lane. She said that the muted reaction from civil rights leaders about a crime with racial implications is telling. Fox host Steve Doocy added that, if Lane had been black, activists like MSNBC host Al Sharpton would have been already on the scene holding rallies and wearing t-shirts.

The Fox hosts asked Malkin why the White House, which felt compelled to opine on the murder of Trayvon Martin before the trail had even begun, has been so hands-off on this issue which has evolved into an international incident.
Brian Kilmeade stressed that, given the outrage in Australia over this incident and their history of working closely with the United States, some official should speak out publically on the killing of Lane.
"They always have something to say about the most trivial things if it serves their political agenda," Malkin added.
Asked about a statement released by Rev. Jesse Jackson about the murder after he tweeted that such behavior was "frowned upon," Malkin said that it was "underwhelming."
"This is an atrocity that everyone should be condemning from the top of their lungs," Malkin said. "This guy can't even get it up with his finger to wag it with any sort of conviction."
"It shows you that these race hustlers have absolutely no commitment to principle and cannot transcend their own racial narrow agenda," she added.
"At least Jesse Jackson did put out a statement," Doocy said. "We have not heard from Al Sharpton. You know, in the Trayvon Martin case, if this were similar…"
"He'd have been down there," Kilmeade said.
"There would be a rally. People would have t-shirts. There would be live shots," Doocy agreed. "All different."
Watch the clip below via Fox News Channel:
—
> >Follow Noah Rothman (@NoahCRothman) on Twitter
Have a tip we should know? [email protected]