Stocking Stuffer! Fox & Friends Shows Us The Tea Party Patriots' Coloring Book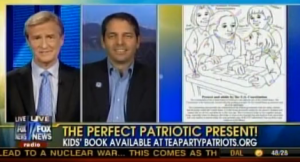 Hey there, reader! Are you looking for the perfect Christmas gift for your patriot in training? How about the Tea Party Patriots' coloring book featured this morning on Fox & Friends? It's fun, educational, and will give your kids something to do during the fifth hour of speeches at the next rally you drag them to. Watch out, though! Liberal bloggers will be looking over your kids' shoulders as they color to make sure they vary up the skin tones in the group scenes.
Yes, today on Fox & Friends, Steve Doocy was joined by Tea Party Patriots co-founder Mark Meckler to discuss the wonderful new book. Not only did it give them time to talk about the organization's 40 year plan (set to culminate right around the time our nation's official language is changed to Chinese), it also gave Doocy a doozy of a chance to let loose with this wonderfully turned phrase:
"As I remember from back in the day, Mark, in a coloring book you try to stay inside the lines, but the Tea Party is all about going outside the lines, arentcha?"
Of course, not everyone likes the new book. Doocy's co-worker Alan Colmes, host of the dearly departed Hannity and Buzzkill, wrote a blog post in which he asked "And who better to learn about freedoms guaranteed in our Constitution than from those who want to change it?" Meckler points out, however, that Colmes has yet to actually see the book and, when he does, he'll discover that there are no mentions of liberals or President Obama, negative or otherwise. All there are are fun, games, puzzles, and even a section in the back where kids can make their own Tea Party signs!
Wait a second…Tea Party signs made with crayons? Uh oh!
Have a tip we should know? tips@mediaite.com