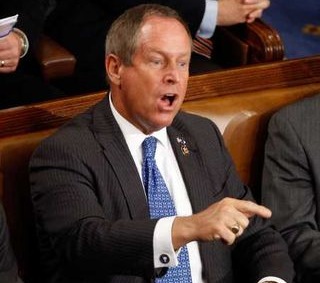 If you've ever wondered whether it's just you or if members of Congress really do sound slightly less eloquent now than they did a few years ago, a new study proves there might be a pattern to worry about. Congressional floor speeches have declined at least one grade level between 2005 and 2012. While the average Congressman still speaks better than the average American, the quality of their rhetoric on the floor has declined from an 11th to 10th grade level, according to the Sunlight Foundation.

RELATED: Could Recent String Of Burglaries In Capitol Hill Offices Be An Inside Job?
The study, which Lee Drutman, the political scientist who ran it, tells NPR was "just for fun" before the results showed a "real drop-off in the last several years," took every word on the Congressional Record from House and Senate floor speeches and ran it through an algorithm that would evaluate each year as a grade level. Below a sample of what they found: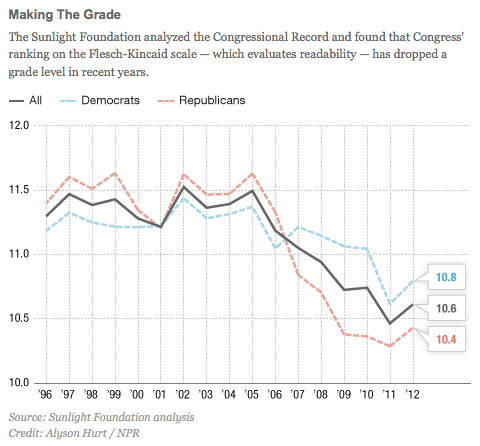 NPR explains how Sunlight did it:
Every word members of Congress say on the floor of the House or Senate is documented in the Congressional Record. The Sunlight Foundation took the entire Congressional Record dating back to the 1990s and plugged it into a searchable database.

In 2005, Congress spoke at an 11.5 grade level on the Flesch-Kincaid scale. Now, it's 10.6. In other words, Congress dropped from talking like juniors to talking like sophomores.

Flesch-Kincaid equates higher grade levels with longer sentences and words with more syllables.
The study found Republicans both at the top and bottom of the scale, with Rep. Dan Lungren of California with the most complex vocabulary and sentence structure, and Georgia Republican Rep. Rob Woodall with the simplest. A more in-depth look at Congress show that, while Republicans did start off as more articulate, the ups and down for them throughout the years have been greater than for Democratic, who have had a steadier ability with words. The past year or so has seen an increase in the complexity of floor language.
Whether these results are a good thing or not is a matter of conjecture: on the one hand, the joke that Congressmen speak like high school sophomores is low-hanging fruit. On the other hand, the legal complexities they discuss while legislating are likely significantly more manifest in the bills themselves– where it counts– than in floor speeches that are open to the public and meant for a wider audience. Is it that bad of a thing to know that a politically active sophomore can successfully navigate an average speech by the people who govern him or her?
Have a tip we should know? tips@mediaite.com