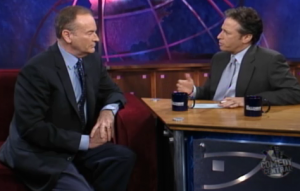 With the announcement that Bill O'Reilly will be squaring off with Jon Stewart on October 6 in a "rumble" at George Washington University, we at Mediaite thought it would be interesting to go back and highlight some of the most interesting and/or heated debates between the two cable news giants throughout the years. Both men have appeared on each other's shows from time to time, and whenever they face off, the end result is nothing if not wildly entertaining.
On March 14, 2002, O'Reilly made his second appearance on The Daily Show (his first being January of the previous year). After some lighthearted banter about sending in Tonya Harding to personally take down Osama bin Laden, Stewart asked O'Reilly about David Brock, a former conservative pundit who evolved into a diehard liberal and went on to found Media Matters. O'Reilly said that Brock's quick political shift made his motives suspect and when he looked into Brock's eyes, he "saw the dollar signs."
They talked for a bit about the other Fox News hosts, and after the break, Stewart asked O'Reilly about Rosie O'Donnell coming out to Diane Sawyer in an interview. O'Reilly said he doesn't care about someone's sexual orientation, but argued that celebrities should not be talking publicly about their sex lives. In O'Donnell's particular case, O'Reilly said parents should not have to deal with explaining to their kids what it means to "come out." Stewart suggested that O'Donnell "is under a lot of pressure" to speak out because if she does not, she would be letting all the news publications writing about her life speak for her.
While this debate did not get as heated or as political as many of their more recent debates have, watching the two men have a discussion like this ten years ago marks the beginning a fascinating evolution of character and banter between the two of them.
Although one glaring error of foresight on O'Reilly's part was his prediction that Ellen DeGeneres "will never succeed on television because a large part of America does not want to hear about her sex life." And, well…
Watch part one here:
And part two:
—–
Follow Josh Feldman on Twitter: @feldmaniac
Have a tip we should know? [email protected]
Josh Feldman - Senior Editor