The Five Breaks Down How The GOP Can Win Over Young Voters: 'We Need Cooler Candidates'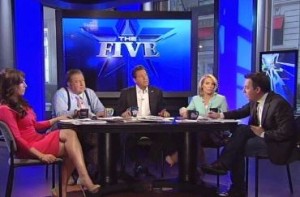 The hosts of The Five today attempted to fix the problems the Republican party is facing with young people, as documented in a report released by the College Republican National Committee. Eric Bolling said the GOP needs to have more hardline conservative candidates rather than squishy moderates, while Andrea Tantaros said bluntly that the GOP just needs "cooler candidates," though Greg Gutfeld disagreed with this assessment, remarking that "cool gets you lucky on campus but it doesn't pay the mortgage."
RELATED: O'Reilly Questions Study On GOP Youth Outreach: Why Should We Care About 'Kids Who Don't Know Anything'?
Dana Perino noted how while past GOP candidates did really well with young people, John McCain and Mitt Romney did "dismally." Bob Beckel warned the Republican party against discounting a group that they lost by so much with, if they ever want to dispel the notion they're just "a bunch of isolated white guys who don't seem to get it."
Bolling decided the bigger problem is that the party has had candidates who are "not really conservative," calling for more of a Ronald Reagan type who could walk the line between being a strong conservative and appealing to the establishment. Perino commented on Reagan's likability, while Tantaros called him both "incredibly authentic" and "plain-spoken," two qualities that she said are important in any candidate.
But more to the point, Tantaros said that the Republican party needs "cooler candidates," who can utilize the internet and social media as well as the Democrats do. Gutfeld wryly remarked, "Cool gets you lucky on campus but it doesn't pay the mortgage." He argued that young people become Republicans anyway later in life when they realize the realities of the economy, so they need to drop the social issues and focus on "everything that's screwing young people right now."
Tantaros pointed out how Rand Paul's drone filibuster was about as cool as you could ever imagine a politician getting, because he "engaged a generation" by speaking out on the issue.
Watch the video below, courtesy of Fox News:
—–
Follow Josh Feldman on Twitter: @feldmaniac
Have a tip we should know? tips@mediaite.com
Josh Feldman - Senior Editor