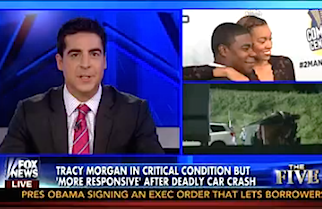 Not every news story can fit into a worldview based on left vs. right, but you have to give cable news credit for trying. During a discussion about the six-car accident that killed comedian James McNair and left Tracy Morgan in critical condition, The Five co-host Jesse Watters wanted to know, "Is this a left-right issue?"
Watters' question stemmed from the fact that it was a Walmart truck driver who allegedly fell asleep at the wheel and rammed into the limo bus carrying McNair, Morgan and others on the New Jersey Turnpike.
"Are truckers, are they going to say this is a labor issue and we need all of our rights?" Watters asked. "And the business interests, are they going to say we need to keep the economy moving, is that what this is going to evolve into?"
RELATED: Tucker Carlson: Sleeping Trucker Who Hit Tracy Morgan Not Necessarily 'Reckless'
Dana Perino was the first to tackle Watters' question, initially saying simply, "No," and arguing that the businesses and truckers' interests are aligned. But she did find a way to turn things around on the federal government.
"One of the problems is that the government has this one size fits all approach, they want to say after you've driven 11 hours, you have to stop, no matter what time of day it is, and you have to rest for ten hours," she explained, saying that can lead to more dangerous driving at night.
From there, Greg Gutfeld mostly ignored Watters' question and instead focused on his amazement over how much trust we place in strangers on the freeway. Freeways are the perfect example of "self-interest and cooperation coinciding," he said. "Nobody one wants to die."
Watch video below, via Fox News:
[Photo via screengrab]
— —
>> Follow Matt Wilstein (@TheMattWilstein) on Twitter
Have a tip we should know? tips@mediaite.com