The Jodi Arias Trial Has Officially Devolved Into A Deep Examination Of Snow White And The Seven Dwarves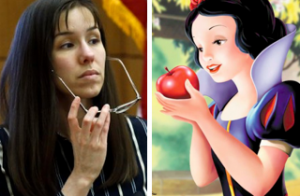 The seemingly endless Jodi Arias murder trail took yet another extremely bizarre turn on Thursday when the prosecution cross-examined expert witness Alyce LaViolette about her theories on Snow White And The Seven Dwarves. The California psychotherapist, who claims that the defendant in the case was a victim of domestic abuse, has given a seminar titled "Was Snow White a Battered Woman?"
Prosecutor Juan Martinez chose to make the Snow White fairytale a centerpiece of his cross-examination, as evidenced by the courtroom montage compiled by HLN below. Martinez grilled LaViolette on the details of the story, drawing a string of "objections" from the defense, almost all of which were "overruled" by the judge.
"Snow White and the Seven Dwarves is a fairytale by the Brothers Grimm, right?" Martinez began, causing LaViolette to clarify that she actually uses the animated Disney film version in her seminar. He continued to ask the witness all kinds of questions about Snow White's situation and why she chose to leave home and live with the dwarves. While he insisted she "lived in a shack," the witness thought it was a "cute little cottage." While he thought she mostly cooked and cleaned while living with the dwarves, the witness pointed she also "talked to the birds and sang with the animals." They even disagreed about the relative ages of the dwarves.
Overall, it was incredibly unclear what the relevance of all these minute details about a fictional fairytale had to do with the murder trial that has been going on for more than three months.
Watch video below, via HLN:
—
>> Follow Matt Wilstein (@TheMattWilstein) on Twitter
Have a tip we should know? tips@mediaite.com