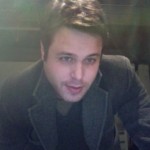 While the coverage so far of Patrick Swayze's battle with and eventual defeat by pancreatic cancer has focused primarily on dancing in the Catskills and supernatural pottery, I'm feeling the passing of the other Swayze: the one who kicked a lot of ass.
I've never allowed myself to be forced to watch Dirty Dancing all the way through, and I have no real idea who Baby is, who wants her in a corner, and why that is a bad thing, but I was as much of a Patrick Swayze fan as every girl I've ever known, and there are two words that explain why: Point and Break.  Two more: Red and Dawn.  O.k., final two: Road and House.
The Patrick Swayze I loved was the one who surfed and skydived at you, who kicked some commie ass on our own turf, and who wanted us to be nice… until it's time to not be nice.
While Swayze undoubtedly found his greatest success as a chick flick staple, there is no doubt that his presence in an otherwise less than stellar action flick had the ability to make it something you'd never forget.  Red Dawn, Point Break and Road House were all essentially bad movies, but bad movies that pretty much everyone loves, and with good reason.  Patrick Swayze could dance, sure, but he could also fight, surf and skydive with the best of them.  And when he was the action guy, it always really looked like he was having a lot of fun.
That was fun people wanted to and still want to get into.  How else can you explain that Point Break lives on as a live show to this day (if you've not yet seen it, or better yet, played Johnny Utah from Utah, your life is not complete), I can't go a week without hearing a Road House quote ("Pain. Don't. Hurt," anyone?) and Red Dawn has a remake in the pipeline.
These are not movies that are in any other way terribly memorable.  These are not great films.  Swayze, and the fact that he could deliver a fun guy movie without taking himself too seriously, is the common thread, and the reason we remember them.
Thats not to say he couldn't act.  Lest you forget, he was nominated for a Golden Globe for his more than memorable performance in To Wong Fu, Thanks for Everything! Julie Newmar.
And while his battle with cancer may have defined the story in the media during the final year or so of his life, it clearly didn't define him.  This is a man who flew himself an hour each way to chemotherapy twice a month.  And more than once critic called his performance as a possibly crooked undercover FBI agent in the A&E series The Beast earlier this year the best of his career, and as one of the four or five people that watched the show, I'd agree.  The Beast was the last roar of the Swayze I loved, the one who used his dancing feet to kick whatever was in his way out of it.
Sadly, however, to quote Johnny Utah: "He's not coming back."


Ash Kalb is the general counsel of a New York-based telecommunications and technology company and an instrument-rated pilot. He writes about geeky things for Mediaite.
Have a tip we should know? tips@mediaite.com