The View Has Emotional Tangle Over Abortion Recipients Being Required To View Ultrasounds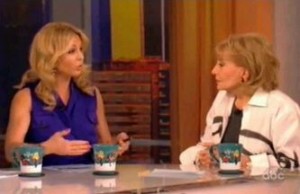 On The View Wednesday, a politically volatile discussion erupted over a Texas judge's decision to uphold an anti-abortion mandate that requires women to see the ultrasound of their fetus before they can terminate their pregnancies. Elisabeth Hasselbeck spoke passionately in favor of the requirement. "To me, it doesn't make sense why you wouldn't!" Hasselbeck exclaimed. "Why you would ask for an X-ray for those things or an ultrasound but not in this case? " "It is such a tremendous decision," Walters fired back. "I think that in order to even think about having an abortion, to give up a child that is obviously unwanted, that's why you're doing it…with so much fear of what you're doing and guilt…then to have to go and be forced to hear, to see the fetus, to hear the heartbeat, to put more guilt on you, I think is heartbreaking."
RELATED: While 'Pulling The Pork' On Fox, Elisabeth Hasselbeck Quips She's 'Not Used To Having So Much Time To Talk'
Joy Behar was furious at the decision, calling it "totalitarian." "It smacks of forcing somebody to confront something that they have already decided they don't want to deal with," Behar opined.
Hasselbeck defended her rationale for supporting Texas's policy.
"I'm going to take my personal feelings about abortion out of this, but from a medical perspective- and I'll ask this of anyone- you wouldn't necessarily go in to get, I don't know, say, a cyst removed or tooth extracted or a kidney that had to be, you know, examined and have surgery on, you would never go through any medical procedure without looking at an ultrasound!" Hasselbeck explained. "Seeing an X-ray and the physician by no means want to do that procedure, go ahead with it without looking at the scientific evidence."
"Here's what bothers me," Whoopi Goldberg interjected. "With an elective surgery — got to take my gallbladder out — they're not going to show you the gallbladder! If you want to see stuff, you ask your doctor. The thing that bothers me is what Barbara said, women who make this decision, it is not easy…sometimes they have to have an abortion because they can't afford it. This does not come with anyone saying, you know, if you keep the baby we'll help you out financially."
Sherri Shepherd candidly shared that she had experienced multiple abortions and that society was sending mixed signals to women.
"The thing that concerns me with this is like you said, it's a very difficult thing, but you have so many people out there protesting and they go 'we don't want you to have a baby.' A lot of girls out here have babies and then we say 'we don't want you to have a baby' but then they don't have that abortion, they see the fetus, they go back home but we let you go. We don't want you to go to Planned Parenthood to get birth control. We don't — we want to — hold on a second. but then, you know, do we want you to have the safety net of food stamps? Then we're the same ones that keep saying you keep having these babies and you're not taking care of the babies. We stop at the picket signs so it's so difficult — I'm speaking as a girl who had a lot of abortions and I swear to God if they had showed me a fetus I possibly would wouldn't have but I would have put my child in a lot of situations that wouldn't have been good because I didn't have the mental capacity to deal with having a child. It was real difficult…it's such a hard thing."
Watch the segment below via ABC:

Have a tip we should know? tips@mediaite.com