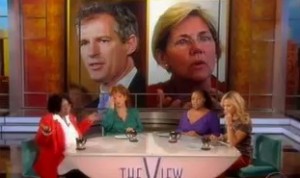 Massachusetts Senator Scott Brown has been taking heavy criticism over a joking reference to Democratic opponent Elizabeth Warren's physical appearance, including from House Minority Leader Nancy Pelosi. In a surprising, if less-than-relevant, development, the cast of ABC's The View weighed in on the controversy today, and took Brown's side. The discussion included a loose grasp of the facts, and an interpretation of Brown's comment, from Whoopi Goldberg, that even the most imaginative press flack couldn't have thought up.

Goldberg set the segment up with a somewhat incomplete account of the dustup, saying, "When Elizabeth Warren was asked how she paid for college, she said she kept her clothes on."
Whoopi and her co-hosts seem to think that Warren went out of her way to attack Brown, who appeared nude in Cosmopolitan magazine while he was in college, when in reality, it was the debate moderator who brought up the nude photo shoot. Warren's response, then, could easily be viewed as either a self-effacing response or a shot at Brown. If it was, indeed, a dig at Scott Brown, it was a relatively good-natured one.
Goldberg went on to explain to her co-hosts, "Now, on a radio show afterwards, Scott Brown was asked, what do you think of that? And he said, 'Thank God.'"
Weirdly, the audience laughed approvingly at the remark, and the discussion took a similarly jarring turn into domestic violence. Co-host Sherri Shepherd said, "I think people keep thinking they can say something and there's no ramification back. It's just like when you hit a man, expect him to turn around and pop you, too."
Things went from appalling to surreal, though, when Whoopi explained how she interpreted Brown's response. "Scott Brown was saying, Thank God you didn't have to do that like i did," Goldberg said, adding, "When I heard it, I have to tell you the truth, I thought he was saying, Thank God I didn't have to do that."
Brown, for his part, offers little ambiguity as to his meaning. "I was responding to a wisecrack she made about a decision I made to help pay for school; it's as simple as that."
Maybe I don't watch The View enough, but this seemed dumber than usual. Whether Warren was making a dig at Brown or not, the response was certainly not equal to the offense, as illustrated by Shepherd's misguided analogy. At worst, Brown was needled, and responded with a Crocodile Dundee knife.
Scott Brown probably should apologize to Warren, even if he feels his sexist blow was warranted. He's in a tight race with Warren for his senate seat, tighter than it probably should be for an incumbent, and against an opponent who just got in a few weeks ago. This is an incredibly bad visual for Brown. Does he really think he's going to pick up votes in Massachusetts by being the jerky best friend from a John Hughes movie? Trust me, nobody likes that guy.
Here's the clip, from The View:
Have a tip we should know? tips@mediaite.com