The View's Nicolle Wallace Admits to Experiencing 'PTSD' When She Sees Sarah Palin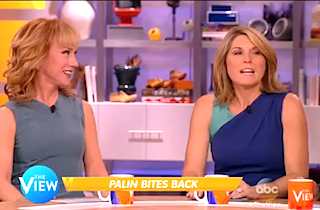 With Kathy Griffin filling in for Whoopi Goldberg on The View Tuesday morning, Rosie O'Donnell thought it would be the perfect time to bring up the latest controversy surrounding Sarah Palin. "How about your old working buddy, Sarah Palin?" O'Donnell asked co-host Nicolle Wallace, who served as communications director for Sen. John McCain's 2008 presidential campaign.
As O'Donnell explained, Palin found herself on the wrong side of PETA after she posted a photo of her young son Trig standing on top of the family dog to reach the sink.
When Wallace started to defend Palin by saying "her kids are beautiful," Griffin shot back, "Don't play the kid card!" To that, Wallace admitted, "I've got nothing else except the kid card!"
After playing a clip of Palin trying to turn the whole thing around on President Barack Obama during an interview with the Today Show, O'Donnell asked Wallace, "Do you have PTSD when you see her?"
"A little bit," Wallace said, laughing. "I start to sweat out." O'Donnell said she could see the color "drain" from Wallace's face. "Who do I get to try to kill me today. PETA or Palin?" Wallace wondered aloud.
Wallace's difficulties with Palin are well documented and it was just a few months ago that she pinpointed the moment she lost faith in the vice presidential candidate. "There was a moment shortly after I met her that I realized that she realized that she was in over her head," Wallace told Wendy Williams in October, adding that after Katie Couric stumped the candidate with her "What newspapers do you read?" question, Palin stopped talking to her.
Watch video below, via ABC:
[Photo via screengrab]
— —
>> Follow Matt Wilstein (@TheMattWilstein) on Twitter
Have a tip we should know? tips@mediaite.com