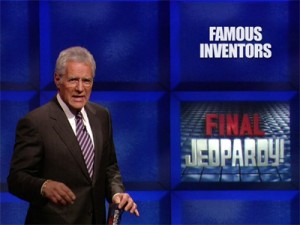 When you've been hosting Jeopardy! for 26 years, as Alex Trebek has, you begin looking for new ways to amuse yourself. Back in 2001, for example, he shaved his mustache. In 2005, he decided not to wear pants. And as the AP reports, he's got big plans for 2011, when contestants on the show will compete against an IBM computer that "can mimic human intelligence."
Two of Jeopardy!'s most winningest champions, Ken Jennings and Brad Rutter, will have to match wits with "Watson, a computer program developed by IBM's artificial intelligence team." According to the company, Watson's "on-screen appearance will be represented by a round avatar." At the end of the match, Watson will physically crush the loser before a live studio audience.
Just kidding (we think), but there's still a lot at stake. As David Bauder wrote for the AP,
The winner gets a $1 million prize. IBM said it would donate its winnings to charity, while Jennings and Rutter said they would give half of their prize money away. … IBM is hoping the technology it exhibits will have some practical uses eventually, for instance helping doctors diagnose illnesses or solving customer problems at technical support centers.
You might recall those chess matches in which Gary Kasparov kept losing to IBM's Deep Blue, which would suggest that machines have already won this war. But the truth is, that was merely one battle:
The "Jeopardy!" answer-and-question format is a different kind of challenge. It often requires contestants to deal with subtleties, puns and riddles and come up with answers fast.
These special episodes of Jeopardy! will be airing for three days in February, 2011. [Via Huffington Post]
Have a tip we should know? tips@mediaite.com