There's One Live Cable Show That Beats Hannity, Maddow & All Cable News Program​s​…By a Lot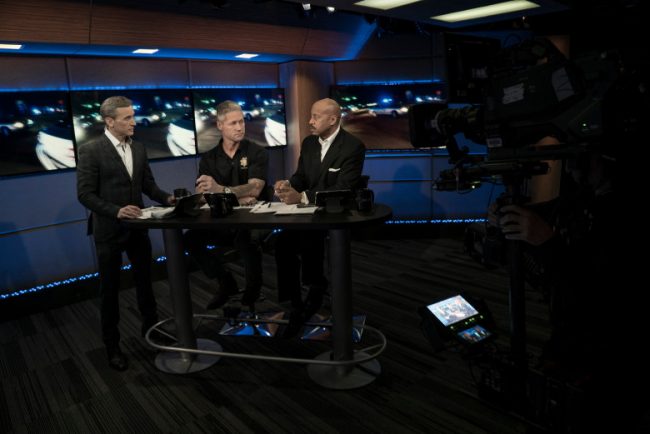 As the year comes to an end, the various cable news networks are touting their respective successes. Fox News is still #1 despite massive changes to its lineup and while MSNBC beat CNN for the year there's no denying that CNN still had phenomenal numbers. All achievements, worthy of the praise and bluster cable news publicists love to tout in weekly email blasts.
Yet there is one live cable show that bests all of the cable news shows in the key 25-54 and 18-49 demos — in fact, it's not even close. This program airs live for six hours per week instead of the five for most prime time cable news programs (Don Lemon on CNN is an exception). And it airs in what is typically considered the most challenging prime time slot; nine to midnight on Friday and Saturday nights.
Live PD on A&E network follows police officers around the country in real time, and in November and December averaged a whopping 957,000 in the key demo (which is consistent with the show 's previous ratings).
For comparison:
–Rachel Maddow, the highest rated news show in the critical 25-54 demo on cable averaged 652,000 for the same time period according to Nielsen.
–Sean Hannity did 631,000
–Tucker averaged 586,000.
Furthermore, Live PD more than doubled Chris Hayes (424k) and also Anderson Cooper (432k). The disparity is even greater with all of them in the 18-49 demo.
Now in the spirit of transparency and full disclosure, Dan Abrams hosts Live PD AND owns this site. And before anyone thinks we're all sitting around analyzing the boss's TV ratings, lets acknowledge that it was Dan who pointed us to these numbers. That said, the facts are what they are regardless of who flagged them.
There a number of takeaways here, among them the widely talked about need for TV networks to invest in must-watch live programming that isn't quite the same on DVR — news, sports, and even SNL running live across the country (social media is a critical component too and Live PD and cable news have passionate followings) .
Like news shows, Live PD has a host (Dan) and in-studio analysts covering live events as they unfold and notably many of the producers are news veterans. The show follows six departments live each night bouncing between them depending on what is happening in each city. There are of course many differences from cable news, chief among them that the name Donald Trump only comes up during the occasional DWI assessment when someone who seems particularly inebriated is asked by officers to name the President (yes, some do get it wrong including one response of "George Clinton").
But even if the topics differ, like cable news Live PD has a live host, remote locations and in-studio expert analysts and ratings that would be the envy of any cable news show. So yes, President Trump has boosted news ratings across the board but there are other ways to do it too.
Have a tip we should know? tips@mediaite.com
Colby Hall - Founding Editor