TLC Capitalizes on Duggar Molestation Story with 19 Kids and Counting Marathon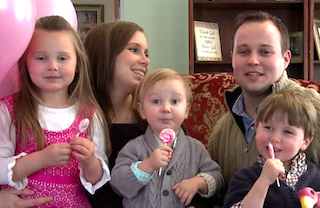 How has TLC responded to the revelation that one of its reality stars, Josh Duggar, has confessed to numerous counts of molestation? Apparently by moving ahead with a scheduled marathon of his family's 19 Kids and Counting show.
When viewers noticed that TLC just happened to be airing its marathon the same night that Duggar and his parents had issued apologetic statements to the press, they started tweeting angry messages at TLC, some of which contained the hashtag #CancelTheDuggars.
Below are some of the tweets that appeared last night and this morning:
Oh my God, catching up on the Duggar molestation news and cover-up, and @TLC is AIRING A 19 KIDS AND COUNTING MARATHON RIGHT NOW

— Bruce Arthur (@bruce_arthur) May 22, 2015
Airing on @TLC right now is 19 Kids and Counting marathon.

Way to go TLC…

#CancelTheDuggars
#duggarfamilyvalues

— Dan Arel (@danarel) May 22, 2015
Is it cynical or tone deaf that TLC is airing a 19 Kids and Counting mini-marathon in wake of Josh Duggar news?

— Jeff Pfeiffer (@ChannelGuideJP) May 22, 2015
Understand my rage. The #Duggars had a choice. @TLC had a choice. Making $ off a false persona won in the end. #CancelTheDuggars

— Dustin Barnes (@DustinCL) May 22, 2015
After news of Josh Duggar sexually abusing his sisters, @TLC airs a marathon of 19 Kids and Counting instead of cancelling it. Disgusting.

— Ketsuda (@kphoutinane) May 22, 2015
TLC very sensitive to the Josh Duggar child molestation story & have responded by thoughtfully running a marathon of "19 Kids and Counting".

— FreedomWorks Panda (@RDofJE) May 22, 2015
Interesting that @TLC is sticking with the "19 Kids & Counting" marathon. This hour's episode is titled, "Duggars Guide to Love." Seriously.

— nickwendell (@nickwendell) May 22, 2015
Seriously, @TLC?! A 19 Kids Marathon?!! #CancelTheDuggars

— Melissa Oates (@sweetmbo) May 22, 2015
Some scheduled episodes on Friday appear to have been replaced by other programming. But so far, TLC has only linked to the Duggar family's statement on its Twitter account and has not issued comments to the press:
Statements from the Duggar family via @people: http://t.co/EdOiRyPeI9

— TLC Network (@TLC) May 21, 2015
Watch a recent clip of Josh Duggar and wife Anna revealing the gender of their fourth baby, via TLC:
UPDATE — 2:15 p.m. ET: TLC has now decided to pull all upcoming airings of 19 Kids and Counting reruns from its schedule. The network has not announced whether or not they plan to move forward with new episodes.
[Photo via screengrab]
— —
>> Follow Matt Wilstein (@TheMattWilstein) on Twitter
Have a tip we should know? tips@mediaite.com