Trump Scolds Cavuto For Asking If He's Supporting Romney Or Just Promoting The Apprentice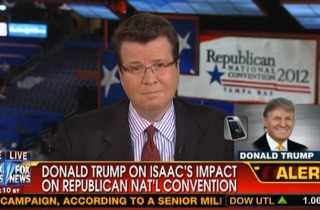 Billionaire mogul Donald Trump appeared via phone on Fox News' Your World this afternoon to lament the delay in his planned "surprise" (hint: likely a "firing" of an Obama impersonator) for the GOP Convention, and give his thoughts on Hurricane Isaac. When host Neil Cavuto asked whether Trump intends to "upstage" presidential nominee Mitt Romney during the events, the magnate scolded the host for asking such questions.
"Are you going to do one of these things where you go, 'Barack Obama, you're fired'?" Cavuto asked Trump of his planned 'surprise'.
"I don't want to say," Trump replied. "It's just something that's really exciting, and a lot of people are excited about it."
A skeptical Cavuto then asked if this surprise was really an elaborate promotion of Trump's NBC reality show:
"It wasn't to promote The Apprentice or anything like that?"
"No, it has nothing to do with The Apprentice, no," the billionaire responded.
"Some folks here are concerned, hey, is Trump going to try to upstage Mitt Romney, embarrass Mitt Romney?" Cavuto then asked.
Annoyed with the question, Trump shot back: "No, that's ridiculous. That's not even a fair question. I've been a supporter of Mitt Romney's for a long time."
He continued to scold Cavuto: "Is that question coming from you, Neil? I'm very surprised you'd ask a question like that."
"I'm raising what's out there, Donald," Cavuto said with a smirk.
"Let the enemies say that," replied Trump.
Watch below, via Fox News:
— —
>> Follow Andrew Kirell (@AndrewKirell) on Twitter
Have a tip we should know? tips@mediaite.com