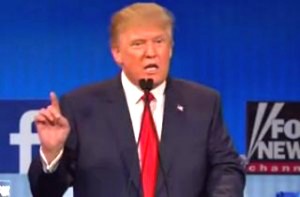 Chris Wallace grilled Donald Trump on the fact that he has repeatedly told America how rich he is, yet has declared bankruptcy in the past and has been confronted with records that lenders lost billions as a result.
When asked how he could be protect the national economy from similar trouble, Trump sneered at the question and claimed he never went bankrupt, ever.
Wallace persisted on the subject, saying that Trump's bankruptcy history had been established, but Trump pushed back by saying that only four deals out of hundreds ever fell through.
"I've taken advantage of the laws of this country like other people. I'm not going to name their names because I won't embarrass them but virtually every personal you read about on the front page of the business sections, they've used the law," Trump said. "The difference is when somebody else uses the laws, nobody writes about it."
To this, Wallace responded that Trump's most recent bankruptcy in 2009, where Atlantic City lenders lost over a billion dollars and saw over 1,000 lay-offs. Trump responded that the people he was dealing with were "total killers" and that he walked away on his own terms:
"Every company virtually in Atlantic City went bankrupt, and let me tell you, I had the good sense and I've gotten a lot of credit in the financial pages, seven years ago I left Atlantic City before it totally cratered and I made a lot of money in Atlantic City and I'm very proud of it. I want to tell you. that very, very proud of it. By the way, this country right now owes $19 trillion, and they need somebody like me to straighten out that mess."
You can watch the segment here:
[image via screengrab]
Have a tip we should know? tips@mediaite.com