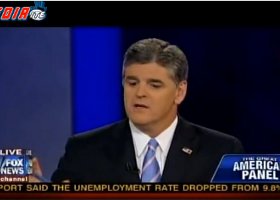 Tucker Carlson recently dominated a slow news week by saying he thought Philadelphia Eagles quarterback Michael Vick should have been executed for his past dog fighting crimes, but the remark also earned him plenty of criticism – none more pointed than from NBA analyst Charles Barkley, who called Carlson a "nobody" and "idiot" for his comments, although by that time Carlson admitted he "overspoke."
Tonight, Carlson responded to Barkley's rip on Hannity (where, of course, he originally made the "executed" remark – while he didn't appear on the show, he released a statement that appeared to be given to the show exclusively.It reads:
Unlike Charles Barkley, I am not pulling for Michael Vick. I'm an animal lover. I think torturing dogs is cruel and disgusting. Sorry that offends people, but I mean it."
Host Sean Hannity's Great American Panel then debated the debate, with former NFL running back/current analyst Tiki Barber saying one must examine Vick's crimes in context (i.e. that he grew up in area where dog fighting was okay), though he still called his actions "reprehensible." Hannity thought Barber was just making excuses for Vick, while Republican strategist Terry Holt said Barkley, in calling Carlson an idiot, got similarly overheated to Carlson when he said he thought Vick deserved the death penalty. (We'd argue that "saying you think someone deserved the death penalty" to calling someone an idiot isn't quite a 1:1 comparison.)
Alicia Menendez of progressive think tank NDN, however, said the debate is simply great publicity for both Carlson and Barkley, as they both "said very hyperbolic things" that everyone is now talking about. Considering the massive amount of play this story has indeed gotten…hard to argue with that. Video of the segment, via Fox News, below.
Have a tip we should know? tips@mediaite.com