Tucker Carlson Suggests White House Is Coordinating With Media Matters To Attack Fox News
Tucker Carlson Suggests White House Is Coordinating With Media Matters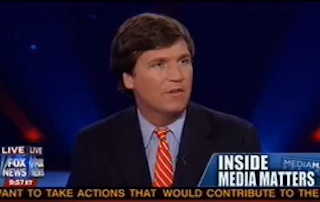 The Daily Caller's Tucker Carlson spoke with Fox News' Sean Hannity on Tuesday about Media Matters and their alleged shadowy ties to the White House.
RELATED: CNN's Howard Kurtz Grills Daily Caller Editor Over Media Matters Investigation
"They have this relationship with the White House," Hannity observed, citing a Daily Caller report. "And they meet with Valerie Jarrett and other White House representatives once a week. Does that mean that they ever corroborated, discussed, collaborated on the issue of this enemy's list?"
"There's no evidence that the White House was in any way in cahoots," interrupted political contributor Kirsten Powers. "Unless you can tell me in terms of targeting Fox News employees, which I think is probably the most despicable thing that came out of this…don't we need to find out what happened? Monitoring the media is perfectly fine, and they didn't do anything wrong and in fact they were very successful."
"Well, look, if you were a left wing benefactor who wanted to influence the news cycle, giving money to Media Matters — you're George Soros. And you want to affect how NBC News covers the news, that was a good investment," Carlson exclaimed. "Should the White House be coordinating with them in their attacks against Fox? Should they receive a tax deductible status, in effect a tax subsidy for doing that? Of course not."
"Meeting with them doesn't suggest they were sitting down and colluding over –" Powers countered.
"I would think a weekly conference call does," Carlson interjected.
Watch the segment below via Fox News:

Have a tip we should know? tips@mediaite.com