Tucker Carlson Trashes Obama's Approach To Snowden: 'Most Arrogant Display…I've Ever Seen From' Him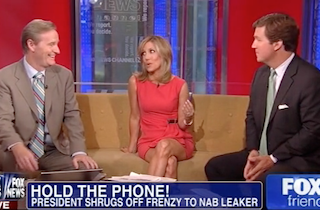 Fox & Friends was not pleased with President Obama's handling of the Edward Snowden ordeal during Friday's show when the crew revisited the remarks he made yesterday. Noting Obama's unwillingness to be "scrambling jets" to get a "29-year-old hacker," Tucker Carlson and Steve Doocy criticized Obama's arrogance and waning international influence.
During a press conference in Senegal yesterday, Obama said he hasn't called President Xi or President Putin personally because "I shouldn't have to." Saying the U.S. would go after Snowden through regular channels, he added, "No, I'm not going to be scrambling jets to get a 29-year-old hacker."
"Wasn't electing Obama supposed to make the rest of the world like us and respect us?" Carlson asked, noting Ecuador's (where Snowden is seeking asylum) "contempt" toward the U.S. From there, they turned to Obama's comments from Senegal, which Doocy noted illustrated a change in narrative.
Snowden was not a hacker, given that he legally accessed information through his job in intelligence. "That is the most arrogant display I think I've ever seen from this president," he charged.
While Obama is unwilling to pick up the phone to move the Snowden case along, Doocy added that Obama does have time to make calls to those like Sandra Fluke and the Prop 8 case plaintiffs. The two things Obama was supposed to give us, Carlson recalled, was improved race relations and good international standing — "people will do our bidding because he is the president."
"If the president is not successful in getting Snowden back, it shows the limitation of our president's international influence," Doocy contended. "It is waning."
Take a look, via Fox News:

Have a tip we should know? tips@mediaite.com