Wait, What? Guest Tells Megyn Kelly: Jerry Lewis Was 'Tossed Out Like A Used Condom'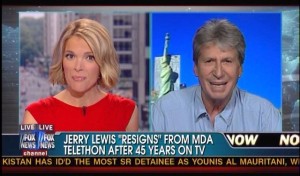 Last night, the Muscular Dystrophy Association paid tribute to Jerry Lewis during their 46th annual telethon, but missing from the telecast to benefit "Jerry's Kids" was…Jerry Lewis. The MDA says that Lewis "retired" from his position as host and national chairman, but Lewis's camp has remained mum as to his resignation. Today on Fox News, Megyn Kelly speculates that at 85 years old, Lewis was simply not as desirable a host as he once was. Her guest, comedian David Brenner, came on even stronger, opining that Lewis was "squeezed" dry by the MDA and then "tossed out like a used condom."
Referencing children's games and, uh, more adult activities, Brenner suggests that Lewis's dismissal is indicative of common industry practice. "TV executives have done for television and for ethics what painting by numbers has done for art," he says. "They squeeze you until you no longer produce any money for them, and then they toss you out like a used condom. And it's very common!"
The image is not a pretty one, but it is probably a pretty accurate one. All except for the part about squeezing out a condom before you throw it away. Who does that?
Unfortunately, Fox stayed with a one-shot of Brenner, so we weren't treated to a reaction from Megyn Kelly.
"It's not good enough to be just funny," he mourns, with sympathy for both Lewis and himself. Brenner says he's held the record for being the most frequent talk-show guest in the history of television, but it's only rarely he's invited on these days. Unfortunately for Brenner, we have to suggest that the sad truth is, the lack of invites may not be because of his age, but because of exactly this sort of limp condom joke. This isn't exactly the kind of spunk they're looking for. Perhaps Brenner is taking the title "seminal comedian" too literally.
Watch the full clip below:
Have a tip we should know? tips@mediaite.com