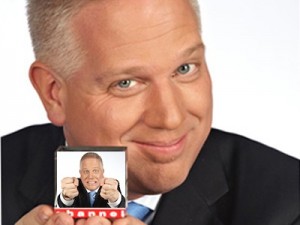 It would be fair to say that the relationship between Fox News and Glenn Beck is being…tested. A recent NY Times column that suggested that Fox News was considering life without its controversial star has led to speculation about Beck's value to–and future at –the cable news network, yet few have asked what Beck may have planned if he decides to leave Fox News. We may, now, have an answer. Mediaite has learned that Beck has planned to hire a Fox News big wig to work within his production company, revealing, perhaps, much bigger and more innovative plans than anyone had previously thought.
A source close to the situation tells Mediaite, "There is a strong indication that Glenn Beck has bigger plans for his TV future than anyone thought, as it looks like Joel Cheatwood, SVP of Production/Development at Fox News, will be joining Mercury Radio Arts very soon to work closely with Glenn on his next creative idea."
While no deal is officially done, indications are that Cheatwood will soon be joining Mercury.
Two weeks ago, David Carr wrote a thoughtful-yet-pot-stirring column that openly asked how Fox News might be preparing for life without their mercurial star at 5pm Glenn Beck. The piece suggested that back-to-earth ratings, combined with some notable neo-conservative backlash, had made Beck's standing at the cable news network vulnerable. Cheatwood's impending hiring seems to indicate how Beck might handle–or even benefit from–a post-Fox News career.
So who is Cheatwood? By at least one account, he is considered number three at Fox News programming behind Michael Clemente and Bill Shine (though numerically ranking influence and power within any work environment is an often flawed method). Prior to joining Fox News as a Vice President in 2007, Cheatwood served as the executive director of program and talent development at CNN, where he created and launched both Beck's program and Showbiz Tonight for Headline News, where he also oversaw the launch of Nancy Grace. Cheatwood is known in local news circles for creating tabloid local news with splashy graphics, over the top sets, and that sort of thing.
By bringing on a senior television executive with Cheatwood's track record, Beck seems to be telling to the television world (and perhaps his current employer) that his vision for his future in broadcasting is not entirely reliant on Fox News, the cable network that undoubtedly helped bring Beck from a lackluster 0.4 rating, while on HLN, to a robust 1.5 rating. Yes, Beck's ratings have come back to earth from the astronomical (unsustainable?) numbers of late August of 2010, yet the number of viewers he regularly gets at 5pm is still impressive. Not only has Beck developed a loyal following, but his ratings have an enormous promotional effect as lead-in to the shows that follow him (though to be fair, Bret Baier at 6pm has been improving on Beck's ratings of late.)
Regardless of how you feel about his politics, there are very few personalities in the news and information arena with as high a profile as Glenn Beck, and now more than ever, established brands are crucial to breaking through the mass media clutter, and attracting viewers. Add to that Beck's radio, web, publishing, and stage reach, and it's not unfair to say that Beck enjoys a significant marketing platform that would certainly be attractive to a wide variety of networks and programming services looking for a cornerstone — a rising tide that would theoretically lift other boats. Beck and Mercury have often been ahead of the digital curve, and have already built a robust subscription streaming business with Insider Extreme, something that would certainly hold appeal to the next iteration of video consumption a la Netflix. Further, Beck has already started building programs to his network in which he doesn't star, such as other programming on Insider Extreme, like the 4th hour with his radio co-stars Pat and Stu, as well as the new online show featuring S.E. Cupp, and let's not forget our good friends at TheBlaze.com.
The hiring of Cheatwood makes the most sense in a scenario in which Glenn Beck is no longer on Fox News, an indication that all of the smoke surrounding this relationship reveals a deeper fire suggesting that the relationship is coming to an end. Beck's status at Fox News is markedly different than that of his on-air peers; he arrived at the cable news network as an established personality, and likely feels less a debt of gratitude to the powers that be, which in turn makes him more of a free spirit/loose cannon. While it's likely that a "Beck-less" Fox News would not miss a beat, this move by Glenn Beck seems to show that he also has no intention of going gently into the night.
Regardless of what ends up happening in this specific relationship, one thing is very clear. Neither Glenn Beck nor Fox News is taking the future for granted, and this unfolding story is likely to get more interesting as time progresses. Will Beck and Cheatwood be the next recipients of Fox News' well wishes? Stay tuned.
Have a tip we should know? tips@mediaite.com