Watch A Hot Dog-Eating Mitt Romney Stumble Into 'Surprise' Fox News Appearance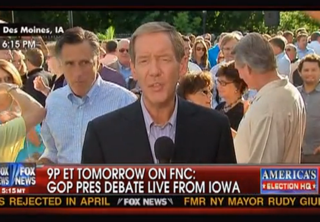 Ah, the campaign trail: that all-American journalistic adventure where, equipped with a camera, a notepad, and dreams, anything can happen. Just take what happened to "Campaign" Carl Cameron in Iowa today– giving an on-location report of a Republican fundraiser, who is to appear but Mitt Romney, munching on a hot dog and "spontaneously" bumping into Cameron to say hello on camera. If Romney doesn't win the presidency, this appearance at least merited him a good 27 Oscars.
As Cameron reported to Shepard Smith live on the scene at a Republican event where Romney was headlining, he begins to explain how Thursday's Fox News debate will be pivotal for the candidate. A graphic appears to cover Cameron up and, suddenly, surprise! Speak of the devil, Romney pops into the shot, apparently trying to get somewhere with his hot dog. "Governor! We're on live with Shepard Smith!" Cameron informs the candidate, to which he deadpans, "Oh. Hey, Shep, how're you doing?" Cameron excitedly notes that "This is the kind of thing that happens in Iowa! Only for Fox News can the candidates come and talk to us this quickly!"
Romney then pleasantly details his thoughts for tomorrow's debate, noting that "it's wonderful out here" in Iowa and thanking Cameron for coming out. Cameron then asks about the other surprise factor in Iowa– Sarah Palin, who will be in Iowa this weekend for some reason. "Well, that'll be fun," Romney replies. "I'm going to be there tomorrow."
Romney is extremely sunny throughout the appearance, and it certainly is good PR. It felt like a moment in a boxing promotion segment, where one of the colorful personalities set to take the ring tomorrow made a special appearance to remind everyone of why they had bought the tickets to the event in the first place. And while it wouldn't be a stretch to question the spontaneity of the dialogue, Romney's enjoyment of the event, the mingling with voters, and the time it took to say hello to Fox News had an element of sincerity that made for a great TV moment.
The segment via Fox News below:

Have a tip we should know? tips@mediaite.com