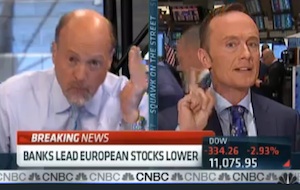 Well it appears that the market volatility of late has not abated – it has in fact seemed to have gotten worse. Much worse even. The stock market opened this morning with almost a 500 point nose dive, with financial and bank stocks taking the brunt of the damage. Financial news isn't really Mediaite's bailiwick, however the financial news network's coverage certainly falls within our purview. And perhaps the only silver lining in this looming dark cloud is that it can, on occasion, produce some good teevee. Take for example CNBC's Jim Cramer who took great exception with a Bear Stearns comment made by his CNBC cohort Simon Hobbs.
You may recall that Jim Cramer was called to the carpet for promoting Bears Stearns stock in just a few days before it effectively went belly up. And kudos to Cramer for having that wound fresh in memory so as to avoid making such a similar mistake again. His reaction to Hobbs, however, is both entertaining and a reminder that his volatile and visceral reactions are very much a part of what makes him so good. Watch the clip below:
Something else worth noting is Cramer's reference to the full page ad that ran in 2008 that called him out. Cramer said "For me to say that people aren't worried that there's a Lehman situation is to run the risk two weeks from now for having a full page ad in saying Cramer said it would never be another Lehman and I am not saying that." The ad in question was run by CNBC competitor Fox Business and can be viewed below.
Fox Business has enjoyed a nice run in the last few weeks, out hustling their still more influential competitor, especially during recent weekend coverage while CNBC stayed in tape. Maybe FBN is starting to get to Cramer?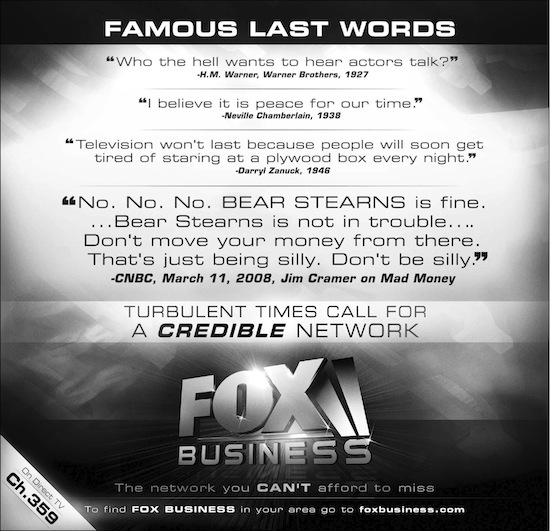 Have a tip we should know? [email protected]