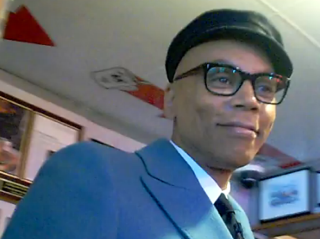 Today's biggest new 2012 Republican primary celebrity is RuPaul, which makes sense if you've been following American politics since about early 2011. Unlike most of the people that have been tangled up in the fray, however, RuPaul only wanted people to know that he has nothing to do with Rep. Ron Paul, but while he's got your attention, also wants to remind you to love yourself. This he told a crowd in New Hampshire today, where the star was on a quest to find Rep. Paul himself.

RELATED: RuPaul Is 'Campaigning' In New Hampshire To Spread Awareness That He Is Not Ron Paul
RuPaul was at the Red Arrow in Manchester, and he tweeted most of his journey and mission. Thankfully his speech to the Red Arrow is already on Youtube, and you can watch his positive message of voter participation and self-esteem below. Here is his full speech:
Hello, everybody! I want you to know that I am not Ron Paul, I am RuPaul and I am not running for president. [crowd boos]. I have a message for Ron Paul and all the other Republican candidates: if you don't love yourself, how in the hell you gonna love anybody else– can I get an amen in here? [crowd amens] You better vote!
Unfortunately, RuPaul will not be participating in tonight's Republican debate, but we have a feeling he would run circles around the people actually on the ballot.
The video (thanks to user "my2dbox") below:

Have a tip we should know? tips@mediaite.com