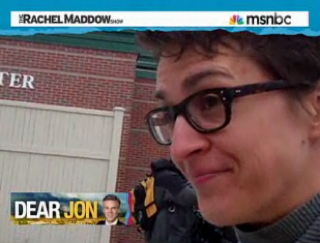 Jon Huntsman and his campaign have made it clear they don't really have any interest in getting their candidate on the air with Rachel Maddow. But Rachel Maddow really, really wants to talk to him. Maddow got in a car and drove to a Huntsman event in New Hampshire, and did her best to approach the candidate.
RELATED: Jon Huntsman Fundraiser Riles Up Conservatives By Calling Rachel Maddow Her 'Hero'
The sad news is that (spoiler alert!) Maddow does not get to meet or talk to Huntsman, as he is surrounded at all times. Maddow explains on the drive over to the Huntsman event that his handlers had said "no way, never going to happen" to an interview with her, but that she was going to try her best to get close to the candidate, anyway. As he finishes giving a speech, Maddow goes outside the venue and attempts to find the car she believes contains the Republican candidate. She approaches dramatically, with boom mics and cameras, but he eludes him, and so she must wait while he is approached by a media scrum that is surprisingly large to Maddow. One of the Rachel Maddow Show's reporters did get a question in– a benign one about Afghanistan, which he answered with numbers on how many and when he expected to pull out.
NBC News Jo Ling Kent, who had followed Huntsman for much of his campaign, explained to Maddow that only recently has his campaign gotten much press because New Hampshire is so integral to his campaign. After her attempt to get him on the program failed, Maddow, reporting from the studio, once again opened her studio to Huntsman. "You have an open invitation any time to come to the show," she offered. "I do not bite– unless you want me to."
The segment via MSNBC below:

Have a tip we should know? tips@mediaite.com