Rick Santorum Is 'Outraged' At President Obama's 'Snobbery' In Claiming 'Every Student Should Go To College'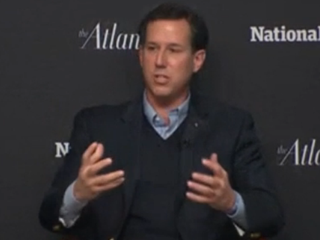 Rick Santorum is out in New Hampshire today campaign and attempting to court the working class vote, and in an event at St. Anselm College. This he did by attacking the idea that it is a generally positive thing for people to go to college as "snobbery," and declared his "outrage" at the President for suggesting that "every student should go to college."
RELATED: A Visibly Annoyed Rick Santorum Blows Off Interviewer's Questions On Catholic Church Scandal

The Wall Street Journal notes that Santorum attributed the idea that going to college was a good thing for everyone to "snobbery," and instead boasted that he would be proud if his children did not do so:
"We are leaving so many children behind," Mr. Santorum said at a forum sponsored by the Atlantic, the National Journal and Saint Anselm College. "They're not ready to go to [college.] They don't want to go to college. They don't need to go to college. I was so outraged that the President of the United States [said] every student should go to college."

"Who are you to say that every child in America goes" to college, he continued. "I have seven kids. Maybe they'll all go to college. But if one of my kids wants to go and be an auto mechanic, good for him! That's a good-paying job."
He went on to explain that auto mechanics spend time "using your hands, using your mind," while previously also citing "the hubris of this President to think that he knows what's best." He then, hilarious, calls for Americans to "wise up," though it's unclear how they are to do that without education (Santorum himself "wised up" by going to several universities and holds a doctorate in law).
Rick Santorum is not the first nor the last politician to suggest that knowledge is not an inherently good asset to have, or that formal education is not necessarily a good way to acquire knowledge (it is important to note that formal education and knowledge are two different things, and that a minority of people do discipline themselves to give themselves the equivalent of formal education without an institution). But to suggest that there is an arrogance in the idea that higher education is something children should aspire to is a dangerous premise that can quickly lead down the slippery "anti-elitist" slope that glorifies ignorance and fears knowledge and discipline, a world where "Joe the Plumber" has a rightful place in American politics but President Obama is somehow an usurper. And whether Santorum was innocently trying to appear folksy or otherwise, the subtexts in his language are unavoidable, and the hypocrisy in his statement that higher education is necessarily problematic when he himself has benefited from it far worse than the myriad distractions those on the left try to pin on him.
What Santorum believes is best for his family, the God that he worships and his views on parenthood affect no one but those immediately surrounding him– his family. And he has every right to promote within that family structure what he desires. What he promulgates about other people's families, other people's gods and other people's education are what get him in trouble, and ultimately belie a lack of comprehension about the American way that puts him at a severe disadvantage to his opponents.
Santorum's comments at the Atlantic/National Journal event below:

Have a tip we should know? tips@mediaite.com