Wednesday's Cable Ratings: Erin Burnett Making Ground With Viewers Aged 25-54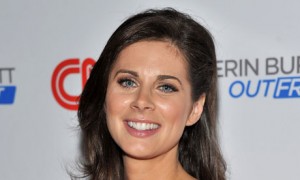 A day after having a Republican debate thrown into the mix, normalcy returned, somewhat, to the cable news ratings, with CNN falling back on its pre-debate numbers and FOX regaining a stranglehold on the top spot. There was, however, some notable movement buried in the ratings.
For instance:
Erin Burnett seemed to hold on to some of that younger crowd she discovered as the debate lead-in. She had been mostly occupying third place — with the occasional jump into second over Chris Matthews — in the 7 p.m. time slot (won handily by Shepard Smith, who did lose a few viewers from Tuesday night), but she scored a solid victory in the 25-54 year old age range on Wednesday. Matthews still beat Burnett with the overall viewers, but Burnett, who was broadcasting live in a rowdy Vegas outdoor setting on Tuesday, might be connecting with the specific demo.
John King doubled his 25-54 numbers, going from 73,000 on Tuesday to 148,000 on Wednesday, beating Al Sharpton — which doesn't happen very often — for second place in the 6 p.m. slot. Again, Sharpton won the head-to-head overall viewer battle, but CNN took second in the 25-54 demo. CNN and MSNBC fans shouldn't do the happy dance just yet; FOX's Brett Baier still crushed both of them, outpacing their combined total numbers by about 800,000 viewers.
Lawrence O'Donnell, who MSNBC is moving from 8 p.m. to 10 p.m. on Monday, beat Anderson Cooper at 8 p.m. by 361,000 viewers. Ed Schultz, the man taking O'Donnell's place, only beat Cooper's repeat by 190,000 two hours later. This could all be attributed to people still used to watching Cooper at 10 (he only got bumped up to 8 this summer). And Schultz did outpace O'Donnell with the 25-54 crowd.
Here are the complete cable news ratings for Wednesday night:
TV NEWS RATINGS: 25-54 DEMOGRAPHIC (L +SD)
5 pm
The5

369

Blitzer

131

Matthews

196

Special

89

6 pm
Baier

375

King, USA

148

Sharpton

143

Prime

122

7 pm
Shep

510

Burnett

189

Matthews

179

Issues

126

8 pm
O'Reilly

708

Cooper
170
O'Donnell

169

Grace

158

9 pm
Hannity

511

Piers
217
Maddow

248

DrDrew

119

10 pm
Van Susteren

351

Cooper

219

Schultz

174

Behar

141

11 pm
O'Reilly

436

Burnett
186
O'Donnell

120

Showbiz

67

TOTAL DAY
328
144
133
99
PRIME TIME
524
202
197
136
Data by Nielsen Media Research. Live and same day (DVR) data.
TV NEWS RATINGS: TOTAL VIEWERS (L +SD)
5 pm
The5

1,741

Blitzer

645

Matthews

864

Special

426

6 pm
Baier

2,040

King, USA

509

Sharpton

699

Prime

442

7 pm
Shep

1,970

Burnett

535

Matthews

864

Issues

439

8 pm
O'Reilly

3,100

Cooper
486
O'Donnell

847

Grace

617

9 pm
Hannity

2,142

Piers
693
Maddow

897

DrDrew

515

10 pm
Greta

1,825

Cooper

623

Ed Show

813

Behar

434

11 pm
O'Reilly

1,374

Burnett394
O'Donnell

458

Showbiz

299

TOTAL DAY
1,303
463
492
337
PRIME TIME
2,363
601
853
507
Data by Nielsen Media Research. Live and same day (DVR) data
Have a tip we should know? tips@mediaite.com