'Who Would You Rather Have A Beer With?' Why 2004 Is Not 2012 And Obama Is No Bush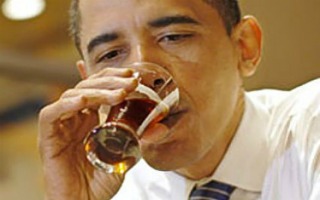 Following a near-tragic week for President Barack Obama's electoral fortunes, Democratic pundits have resorted to the question that rears its misleading head in every presidential election cycle: "who would you rather have a beer with." Democrats console themselves that, just like President George W. Bush, Obama is America's preferred drinking buddy – therefore, despite his troubles today, in the end America will give Obama another four years. But this superficial question presents Democrats with a false hope – 2012 is not 2004 and Obama is not Bush.

RELATED: An Obama Gaffe That Actually Matters: 'The Private Sector Is Doing Fine' (With Obama Response)
On MSNBC's Hardball, University of Georgia visiting professor Cynthia Tucker was asked to comment on President Obama's likeability rating, which remains stronger than his job approval rating in a recent NBC News/Wall Street Journal poll.
Tucker said that, in her view, it is clear from that poll that "many Americans still like the President very much."
"That certainly does not apply to hard-core Republicans, who hate him," said Tucker. "But many Americans like the President. He's a good guy, a good father, a good husband. He projects warmth on the campaign trail. So that has helped him, I think, some."
"Mitt Romney is a geeky, awkward candidate on the campaign trail," Tucker continued. "He doesn't project a lot of personal warmth. He doesn't' seem the kind of guy you'd want to sit down and have a beer with."
Tucker said that the Obama campaign was doing all it could to "define" the Republican presidential candidate – "define him as a guy who doesn't even treat his dog very well," said Tucker. "Define him as a guy who is building another huge house with an elevator for his cars in it."
Replace Romney with Sen. John Kerry and Obama with Bush, and this same observation could have been made verbatim eight years ago. It's not just these superficial observations but empirical data that supports the conclusion that the candidates of 2004 and 2012 enjoy many similarities.
As the summer approaches, President Obama's poll numbers appear ever weaker. A slow and steady decline foreshadows an even more discouraging and structural problem with Obama's support. It is a decline that is not easily reversed by one good unemployment report or even a strong quarter of GDP growth. This is a trend that, in the minds of many persuadable voters, is nearing a stage where it will become set and irreversible.
But, Democratic voters and supporters of President Obama can consoled themselves on one thing – their president is the more likable of the 2012 contenders. Obama wins the "who would you rather have a beer with" vote. They note, correctly, that George W. Bush won the same vote of confidence in 2004 and went on to win a narrow reelection.
That eternal, meaningless question helps console those who are staring down the barrel of a painful loss. Those who invest meaning in that question convince themselves that their candidate has a mysterious advantage that cannot be quantified and will, in the end, carry the day.
While Bush maintained a slight advantage in the polls in June, 2004 (struggling to crest 45 percent), by July that advantage had dematerialized. From July to August, Kerry maintained a consistent lead over Bush in nearly every poll of the race. It appeared that the Republican's wartime President was headed to a loss.
An August, 2004 Zogy/Williams Identity Poll found that 57.3 percent of undecided voters would rather have had a beer with Bush over Sen. John Kerry (Despite the fact that Bush did not drink alcohol). That same poll found that 67 percent of undecided voters found Bush "likeable" while only 52 percent said the same of Kerry. There was hope – and that hope was trumpeted.
USA Today's retired White House reporter Richard Benedetto wrote in September, 2004, that Bush enjoyed a monopoly on the beer-drinking vote:
"Snob" is a word often used by people when asked how Kerry strikes them. "Nice guy" is the way many express their response to Bush.

Of course, detractors of Bush often describe him as "dumb" and "arrogant." And supporters of Kerry like to promote him as "smart" and "intelligent."

But for the most part, Bush is seen as the friendly neighbor next door. A new Pew Research Center Poll asked swing voters who comes off more as a "real person," Bush or Kerry? Bush won, 56% to 38%.

That's a plus. The vote for president, unlike balloting for mayor or governor, is as much a personal choice as it is an issue choice. Americans want to like their president as well as agree with him. They often will overlook differences on issues if they like or trust the person. Ronald Reagan, John F. Kennedy and Dwight Eisenhower are recent cases in point. Bill Clinton's likability helped him survive the Monica Lewinsky scandal.
Maybe 2012 is 2004 in reverse. Perhaps the President can recover from his summer slump (repeated every summer in Obama's job approval and only now just beginning). Perhaps there will be a miraculous economic rebound in the U.S. or in Europe or a unifying event abroad will help Americans to coalesce around their government… Perhaps.
But the fundamentals today present a negative electoral outlook for Obama. The economy is exerting a downward pressure on the President's poll numbers. Among independents, even the most favorable polls for Obama (a CNN/ORC poll from late May showed Obama leading Romney by 49 to 46 percent), independent voters overwhelmingly lean towards Romney to the tune of 51 to 39 percent.
So while Democrats may lean on the beer question, the dynamics today are not those of 2004. Mitt Romney is not John Kerry and President Obama is no George W. Bush. American voters, by and large, know that there is a difference between a drinking buddy and a President.
Watch Cynthia Tucker talk beer politics via MSNBC:
Follow Noah Rothman on Twitter
This is an opinion piece. The views expressed in this article are those of just the author.