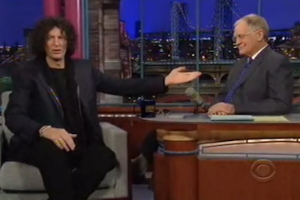 Last night on Late Show, David Letterman was joined by Howard Stern and the two had a lively conversation. While many people have reported on the many Jay Leno disses that Stern was dishing out, at this point, hearing either of these guys talk trash about Leno is pretty old hat. The amazing thing is that everyone reporting on that missed a potentially huge story that came right after when it appeared that Letterman offhandedly announced that he'd retire in two years. Is Letterman leaving the show in 2013?
The comment came as Letterman was asking Stern when he was planning on ending his shock jock reign. Stern asked the question right back and Letterman casually said "I don't know. Maybe two years, I think."
Newsday quickly contacted someone from Letterman's camp to see if this was real and they downplayed it. From Newsday:
"Rob Burnett, president of Dave's production company Worldwide Pants, downplayed the remark in a phone interview. 'Dave and Howard are very rare entities in show business in that most people are asked to leave the stage. These guys have complete control over their own exits.' Nevertheless, he said last night was not a formal announcement: 'Dave has mused on air about retiring lots of times. Whenever the day comes that he actually chooses to announce his departure, I don't think that announcement will be ambiguous.'"
Still, as some have pointed out, Letterman would be 66 in 2013 and that's the same age Johnny Carson left the Tonight Show. Carson, of course, is one of Letterman's heroes. Will he try to follow in his footsteps all the way to the end?
Watch the video from CBS below and judge for yourself:
Have a tip we should know? tips@mediaite.com