Why Does It Matter If President Obama Calls The Boston Marathon Bombing An 'Act Of Terror'?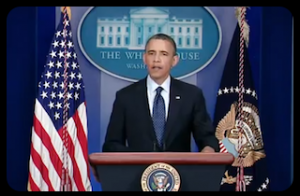 When President Obama delivered a statement about the bombings at the finish line of the Boston Marathon earlier today, he notably did not use any form of the word "terrorism." Speaking for several minutes from the White House press room, Obama said, "We still don't know who did this or why, and people shouldn't jump to conclusions before we have all the facts. But, make no mistake; we will get to the bottom of this." There has been much speculation about why the president cautiously avoiding that loaded term and trickles of outrage from those who believe he should have. But as horrific as the bombings were, President Obama made the right call by holding back on that characterization until we know who was behind the attack and why they committed it.
Immediately following President Obama's remarks, an unnamed official released a statement saying that the bombings is "clearly an act of terror, and will be approached as an act of terror." Whether this was damage control for Obama or just an alternative, anonymous opinion is unclear, but it shows how important this designation is for so many people who want to understand what exactly happened in Boston today.
For a violent act to be considered "terrorism," it not only needs to produce a fear, it also needs to have an underlying political objective. This is why incidents like the Newtown shooting, in which a lone shooter committed a random act of violence for no discernible reason, is not considered an "act of terror," despite the fact that is terrifying. While the attacks today in Boston certainly resemble other "terrorist" acts like the 2007 London subway bombings and others, without knowing who is responsible and what the real motives were, it would be irresponsible to call them "terrorism."
The bubbling outrage over President Obama's hesitance to use the term "act of terror" today is reminiscent of the concern many conservatives felt over the fact that he initially resisted using it immediately following the attack on the U.S. consulate in Benghazi, Libya. Of course, as CNN reporter Candy Crowley helpfully pointed out during Obama's second debate with Mitt Romney last October, the president did use those words to describe the attack the day after in the Rose Garden. At that point, Obama must have felt that he had enough information to make that call, given the nature of the attack, where it took place and who its targets were. But why is it so important to so many people that the president use those words "act of terror"?
After September 11th, 2001, President George W. Bush launched the "Global War on Terror," which essentially meant that as long as there were "terrorists" out to get the United States, our country would be at war. And unlike previous wars that were fought against states with borders, this war could take our soldiers, and later drones, anywhere in the world. Shortly after he was elected, President Obama decided to stop using the "Global War on Terror" label and instead opted for "Overseas Contingency Operation." While in some ways, the actual policies have not changed that much, Obama knew that an endless "War on Terror" glorified America's never-ending struggles across the world and did not exactly encourage an eventual time of peace.
Just as President Obama was hesitant to continue the "War on Terror," today he resisted the calls to symbolically link the Boston Marathon Bombing to every other "act of terror" that has happened in the past before we know more about what occurred. But there is clearly some sense of eagerness by cable news to use the "terror" label, perhaps just as a way of understanding the events and clarifying the narrative. By the 7pm ET hour, all three major cable networks were using some form of "terror" onscreen, with varying degrees of attribution.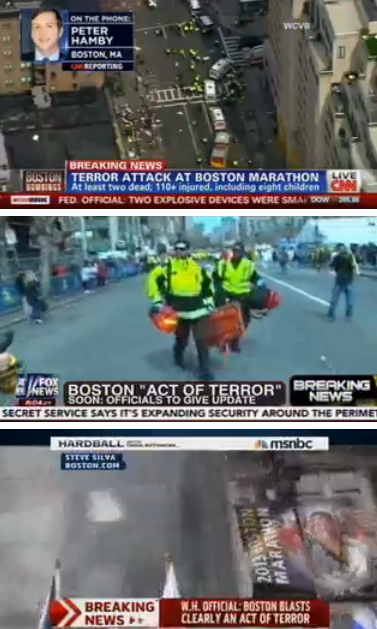 Fox News' Bill O'Reilly opened his show this evening by saying President Obama made "one mistake" during his address about today's "terror attack" in Boston. "The president called the attack a 'tragedy.' It was not," O'Reilly said. "It was a vile act of violence, designed to kill innocent people, including children. I was just in Boston yesterday, and this makes me sick."
The bombing today was a "tragedy" and nothing President Obama said–or didn't say–today diminished that tragedy.
Watch video below, via Fox News:
—
>> Follow Matt Wilstein (@TheMattWilstein) on Twitter
Have a tip we should know? tips@mediaite.com