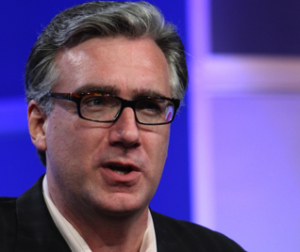 Sources tell Mediaite Keith Olbermann and MSNBC were headed for a breakup long before Comcast's rise to power, but clearly something set the divorce into motion quickly today, with network promos set to run touting Olbermann's role in MSNBC's coverage of next week's State of the Union address–and, notably, a Keith Olbermann promo running on MSNBC in the hour after the host signed off and left the network.
MSNBC executives have long planned for the day the network's star might be sent packing, and the rise of Rachel Maddow at MSNBC–along with the grooming of Lawrence O'Donnell as a potential replacement for Olbermann–appears to have hastened the host's departure.

While Olbermann and his iconic Countdown have been immensely important in the resurgence of MSNBC, Olbermann's friction with management has been a sticking point. At many points–including the recent suspension over political contributions–tensions rose so high as to lead to serious discussions inside MSNBC about firing their star.
With Maddow enjoying both immense popularity inside MSNBC and very strong ratings for her Rachel Maddow Show, Olbermann's invincibility as the heart and soul of MSNBC's brand became softer. In recent weeks, sources tell Mediaite there have been meetings on the topic of Keith Olbermann and his future at the network. Did Comcast–as many Countdown viewers seem to suspect–order Olbermann out? It appears that the end of the Olbermann era at MSNBC was not "ordered" by Comcast, nor was it a move to tone down the network's politics. Instead, sources inside the network say it came down to the more mundane world of office politics–Olbermann was a difficult employee, who clashed with bosses, colleagues and underlings alike, and with the Comcast-related departure of Jeff Zucker, and the rise of Maddow and O'Donnell, the landscape shifted, making an Olbermann exit suddenly seem well-timed.
The blunt, brief statement of Olbermann's final day, compared to the long, lush programming memo that makes no mention of Olbermann suggests that while the timing may not have been set, the foundation had been laid for today's move.
Update: Brian Stelter reports the following statement from Comcast:
"Comcast has not closed the transaction for NBCU and has no operational control at any of its properties including MSNBC. We pledged from the day the deal was announced that we would not interfere with NBCU's news operations. We have not & we will not."
Watch Olbermann's Sign-off below:
Have a tip we should know? tips@mediaite.com