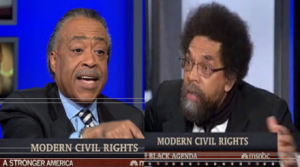 On the MSNBC special The Black Agenda hosted by Ed Schultz, there was an extremely intense debate over whether President Obama is doing enough for the African American community or whether black leaders in Congress and around the country are improperly expecting Obama to do all the heavy lifting. On polar opposites of the debate were Al Sharpton and Cornel West, as Sharpton declared most black leaders, except for Obama, are silently doing nothing while West considered Obama to possibly be no more than a "black mascot" for the wealthy.
Sharpton declared:
"Too many of us are putting it all on the President, if I see a [Paul] Ryan in Congress, where is the counterpoint to Ryan? That's not President Obama's job . . . He shouldn't lead the civil rights marches against himself. Eveybody's sitting around acting like we can't do anything, Obama's going to do it. That's hogwash."
However, West did not jump on the bandwagon to defend Obama and offered a provocative reason why many black congressional leaders are hesitant to lead on issues themselves and to challenge Obama:
"They have a black constituency and there's a context in the nation that a criticism of President Obama is an attempt to support the right-wing vicious attacks of Fox News and others."
When West told Sharpton that he worries this White House is manipulating him as they seem more eager to serve the interests of wealthy oligarchs than to serve the black community, then Sharpton really exploded. And West was willing to go toe-to-toe, arguing back by claiming that over 72% of young black men have been stopped and frisked by the police in New York City yet Obama never addresses such issues. Instead West predicts, "if investment bankers were stopped and frisked, he'd say something."
As the segment closes with West yelling "where's the jobs bill" from Obama, with Sharpton raising his voice, and with Velma Hart (the persistent Obama critic from the famous townhall meeting) demanding to know "where's the leadership," MSNBC and Schultz may want to consider assembling such a lively and entertaining Sunday night debate more often.
Watch the clip from MSNBC below:

Have a tip we should know? tips@mediaite.com