Will Cain Takes on CNN Hosts, Guests for Claiming Bloomberg Has Brighter Future Out of Office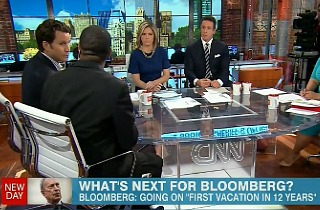 CNN contributor Will Cain took on the hosts of CNN's New Day and fellow CNN contributor Marc Lamont Hill on Thursday over the presumption that New York City Mayor Mike Bloomberg will be even more politically successful out of office in his efforts to advance anti-gun control legislation. Cain told the group that Bloomberg, a technocrat, requires the power of coercion to enforce his plans and will have to rely on his unproven powers of persuasion alone without the power of the office behind him.

"Is there a next for him in politics?" Chris Cuomo asked Hill.
"I'm not a huge fan because of stop-and-frisk and other things," Hill said of Bloomberg, "but he showed what can happen when you're not beholden to other people's money, where you're not beholden to special interests. You can actually do your thing and make progress."
Hill said that he sees Bloomberg leading an "independent think tank."
"I think his political future is pretty bleak," Cain submitted. "Let's define him: he's a technocrat. In fact, he may be the best of technocrats."
"He's data driven, elite expert that knows how to, kind of, micromanage people's lives and works on a local level," he continued. "It's harder on a national level."
RELATED: Pro-Obamacare Technocrats Present Worst Argument Ever: You Don't Know What's Good for You
Cain said that Bloomberg has now lost his "number one tool," the power of "force" that comes with high office. He said that where Bloomberg attempted to persuade local electorates to embrace gun control outside of New York City all failed.
"Nationally, there's a move towards gun control," Hill asserted. "With his money, data driven policy initiatives he can move the ball forward."
CNN host Kate Bolduan asked why now is not Bloomberg's moment, given the public mistrust of the two political parties and the NYC mayor's ability to transcend both political paradigms.
"I think the last couple days shows us, specifically in Virginia, that the public has a reaction against failed technocracies," Cain insisted.
"I've never heard that word before," Bolduan interjected.
"It's just data-driven experts that know how to micromanage your lives," Cain clarified. "The healthcare plan of Obamacare is exactly that."
"That has absolutely nothing to do with their point," Hill countered. "The point is, he's in the middle. People like people in the middle now."
The panel concluded by agreeing that Bloomberg may be more comfortable as a global philanthropist in the mold of Bill Gates than a political operator.
Watch the clip below via CNN:
[Photo via screen grab ]
— —
> >Follow Noah Rothman (@NoahCRothman) on Twitter
Have a tip we should know? [email protected]