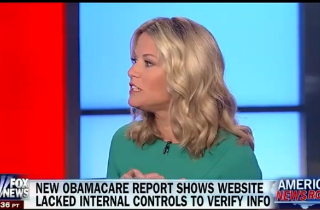 What was supposed to be a generic left vs. right panel debate during Fox's America's Newsroom turned tense for a few moments as anchor Martha MacCallum berated her liberal guest, calling him an "apologist" for the Obama administration and the Internal Revenue Service over its lost emails controversy.
Speaking with National Review editor Rich Lowry and Fox's liberal commentator Bob Beckel, MacCallum lamented how it seems as though government has "lousy" computer systems that don't work. Noting the recent IRS and Obamacare rollout problems, she said, "We are being told the government can't handle the technology."
"There is a lot of information coming in and out," Beckel pushed back. "For the most part, it works."
That set MacCallum off. Transcript of the heated exchange below [emphasis added]:
MACCALLUM: Where does it work, Bob?

BECKEL: It works in the IRS. It works fine.

MACCALLUM: No, it doesn't work in the IRS. The IRS just told us that they cannot keep track of their own emails, for God's sakes.

BECKEL: Listen, you take something the size of what the IRS has to put through every year — hundreds of millions of pieces of data — and there's going to be breakdowns. Yes, they could use better technology, so could Obamacare. It will work.

MACCALLUM: You're being an apologist! Do you hear yourself? You are apologizing. We are the greatest nation in the world and we're supposed to just go, "Oh, stuff happens"?

BECKEL: Obamacare is working just fine.
The anchor later confronted Beckel for why he and other Democrats don't "demand" that Obamacare work as advertised. "Say this is an embarrassment," she proposed.
Watch the clip below, via Fox:
[h/t Richard Wojcicki]
— —
>> Follow Andrew Kirell (@AndrewKirell) on Twitter
Have a tip we should know? tips@mediaite.com