O'Reilly Tears Into Marc Lamont Hill Over Chris Dorner Remarks: You Gave 'Credibility To A Killer'
O'Reilly Tears Into Lamont Hill Over Dorner Remarks: You Gave 'Credibility To A Killer'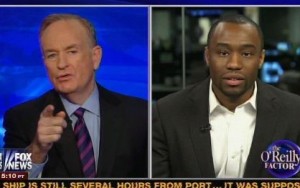 One of the strangest aspects of the Chris Dorner manhunt saga has been the accused killer's online fanbase who applaud him for taking the lead in trying to publicize and fight back against police corruption. On CNN yesterday, Marc Lamont Hill said that these people view Dorner as a "real life superhero" and compared him to the vengeance-seeking main character of the film Django Unchained. Hill sat down with Bill O'Reilly tonight to defend his comments, with O'Reilly telling Hill he was being insensitive to the victims' families.
RELATED: CNN Panelists: Dorner's 'Exciting' Rampage 'Like Watching Django' Exact Revenge For Police Brutality
Hill immediately apologized to the families of Dorner's alleged victims before explaining the context of his remarks. He said that he does not support Dorner's actions; he was merely commenting on the phenomenon of people idolizing him. Hill told O'Reilly that one of the big media narratives has been that Dorner was wronged by the police department, and there could be a real story about corruption in the LAPD.
O'Reilly responded by telling Hill any comments meant to humanize a killer are misguided, citing Russian support of Joseph Stalin as an example. O'Reilly said he understood what Hill was trying to do, but found it striking that Hill never condemned his supporters. He added that Hill was engaging in irresponsible speculation about corruption in the LAPD before any facts have come out.
Hill shot back that the LAPD gets thousands of complaints about police brutality and corruption every year, and the only investigations are carried out by their own internal affairs departments. When O'Reilly accused him of trying to give "credibility to a killer," Hilll said he does not want to investigate the LAPD because Dorner says so, but because it's important to get to the heart of police corruption.
O'Reilly said, "That conversation comes later." A bewildered Hill responded, "You get to decide when we talk about police brutality, Bill?" O'Reilly ended the segment by making it clear to O'Reilly his comments are just plainly insensitive to the families of the victims.
Watch the video below, courtesy of Fox News:
—–
Follow Josh Feldman on Twitter: @feldmaniac
Have a tip we should know? tips@mediaite.com
Josh Feldman - Senior Editor