After what felt like eons of Michael Jackson coverage, the news mags turn their attention back to politics. In the week following Obama's G-8 jaunt, and with Sonia Sotomayor's hearings on deck, political celebrities — young and old — are back on the cover.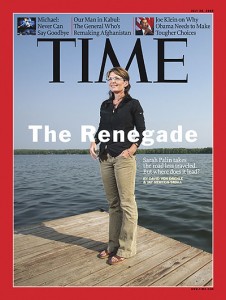 Sarah Palin returns to the cover of Time for the first time since September 2008. In the weeks following her debut as McCain's running mate, she appeared tightly cropped with a stiff collar. Then she still had the mystery and intrigue of a dark horse, small town political player. After more than ten months of media scrutiny (and some might say embarrassment), she shouldn't have such an easy time standing on the cover.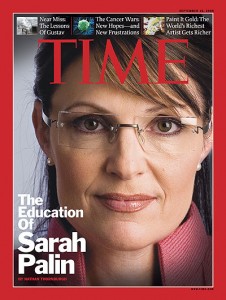 Mediaite Grade (C+): We're used to provocative Sarah Palin covers, so plain-Jane Sarah standing on a dock and staring off into the distance isn't cutting it for us anymore. It almost seems that Time is bending over backwards to show us that Sarah Palin and the media are not enemies. 'Renegade' might be close to the most kind-hearted — not to mention dull — spin we've seen on her recent antics. Still, Time deserves credit for not going for the easy jab: 'Sarah Palin takes the road less traveled, but where does it lead?' Pick up Time this week if you still have the stomach for the next chapter in 'The Education of Sarah Palin.'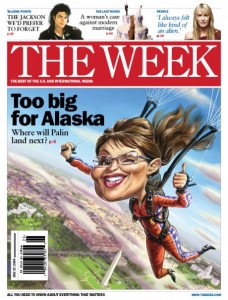 Clad in stars and bars, a winking Sarah Palin falls through the sky, clutching her parachute lines through a thumbs-up. The Week's caricature isn't concerned with challenging our understanding of Palin, but it does paint the latest Palin news in the humorous light that we need to actually read it.
Mediaite Grade (B): Here's the funny Sarah Palin cover we've been waiting two weeks for. Nothing especially creative in the concept, but the execution wins us over. We're still happy to have The Week's blessing to laugh after the last two weeks of news. Gotcha, Sarah.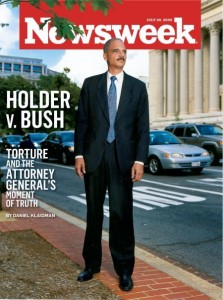 With all eyes turned to the courts this week, attorney general Eric Holder is a smart choice for the Newsweek cover. But what gives with the photo? Looks like the real Eric Holder was too busy for a photo shoot, so they just used a shot of a cardboard cutout on a bare DC street corner.
Mediaite Grade (C): Hats off to Newsweek for making good on their promise to shove less celebrity worship in our face. And we're itching to read the Holder story inside. Too bad this one probably isn't going to fly off the magazine stand (although it might blow away). And if somebody happens to see the real attorney general anywhere, have him call Renegade Sarah Palin for a lesson in gazing off the page (is he spacing out or watching somebody get mugged?).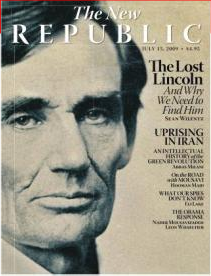 The New Republic goes old school with a tried-and-true American political celebrity: Honest Abe. While we were all busy holding our breath through Obama's first 100 days this February, apparently the the oft-quoted (these days) American hero Lincoln turned 200.
Mediaite Grade (B+): When was the last time we had the stamina to sit down with a  lengthy feature about a long-dead historical figure? But maybe these summer months are just the time to kick back and savor a thought piece. And if we opt for the The New Republic over The Week, we don't have to have the cruelty of our bleeding-heart liberalism rubbed in our face. This is no cheap-shot political cartoon — this is a portrait of an American legend.
COVER WARS WINNER: The New Republic – This week we graded on a curve and the dorky kid at the back of the class (who only comes out twice a month) won! After what felt like a solid month of wall-to-wall MJ with a little bit of Farah and Sarah peaking through the cracks, we're ready for a little bit of brain food. A trip down memory lane with ol' Abe might be just the vacation from this summer's news that we've been looking for.
Have a tip we should know? tips@mediaite.com