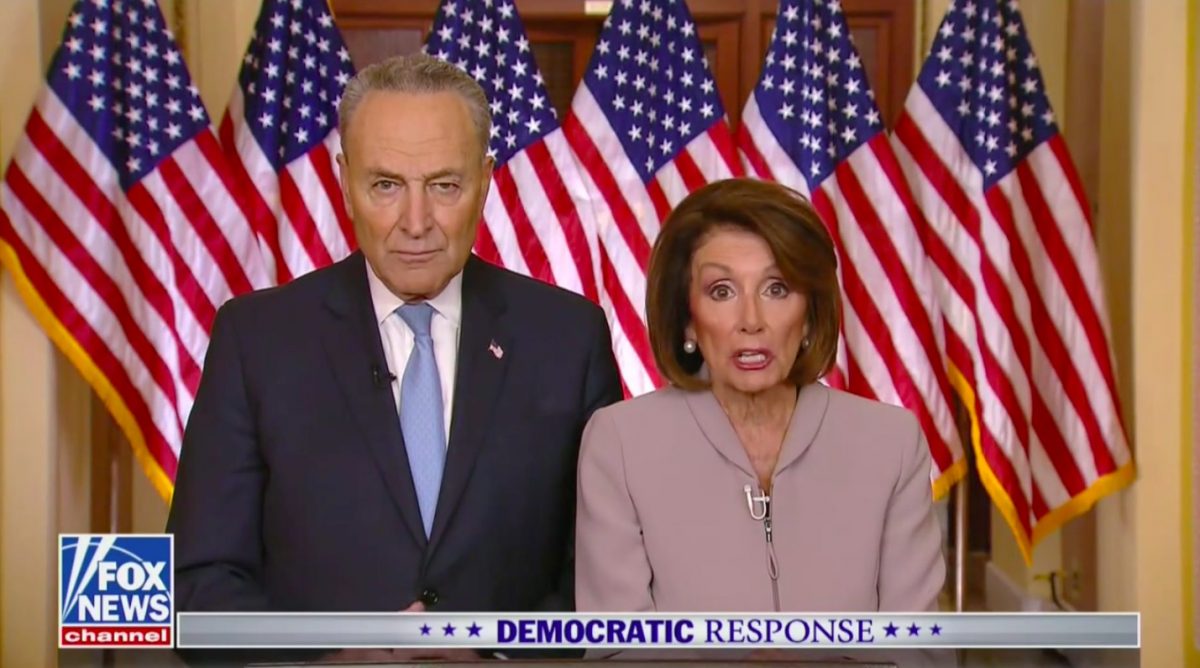 Early TV viewership numbers seem to suggest that political audiences were less interested in Donald Trump's speech last night and more interested in what Nancy Pelosi and Chuck Schumer had to say.
The president, the house speaker and the senate minority leader dominated the airwaves on Tuesday night with their dueling prime-time messages to the nation. Trump used his address to make his latest appeal for a wall and increased border security, but Pelosi and Schumer rebuked him by demanding an end to the government shutdown over his "manufactured" crisis.
On Wednesday morning, Fox Sports Executive Vice President Michael Mulvihill tweeted his assessment of combined ratings for the biggest national networks that carried the addresses. Judging by the numbers, Trump and the Democrat response tied in ratings on several channels, but the Democrats surpassed the president on more networks than he surpassed them.
Combined overnight ratings of seven national networks:

9-9:15, including President Trump's address to the nation: 28.1 rating / 45 share

9:15-9:30, including Pelosi/Schumer response: 29.3 rating / 47 share

— Michael Mulvihill (@mulvihill79) January 9, 2019
Last night's Democratic response (9:15-9:30) outrated the POTUS address (9-9:15) by +26% on CNN, +15% on MSNBC, +3% on ABC.

POTUS speech outrated Dem response by +3% on CBS.

The two rated equally on NBC, FOX, FNC.

— Michael Mulvihill (@mulvihill79) January 9, 2019
Top markets for POTUS speech and Democratic response; 9-9:30p on seven national networks:

West Palm – 38.3
Ft Myers – 38.3
Albuquerque – 34.5
Knoxville – 34.0
Hartford – 33.9
Cincinnati – 32.2
Denver – 32.1
Memphis – 32.0
Washington – 31.9
Pittsburgh – 31.9

— Michael Mulvihill (@mulvihill79) January 9, 2019
MediaPost's Alex Weprin took notice of this, and he explained how Nielsen's overnight ratings suggest the accuracy of Mulvihill's numbers, even if their system doesn't allow for exact data pinpoints.
Usual caveats apply re: Nielsen overnight ratings. Live nature means they are subject to change, and addresses not perfect 15 min increments, still, it appears that the ratings rose over time through Dem response. Typically they peak towards the beginning.

— Alex Weprin (@alexweprin) January 9, 2019
— —
>> Follow Ken Meyer (@KenMeyer91) on Twitter
Have a tip we should know? tips@mediaite.com