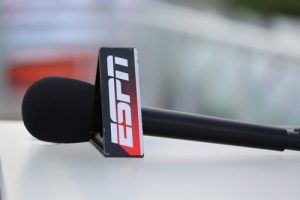 For months, ESPN has allowed Fox Sports 1 — the network which is perhaps its first credible rival ever in the all-sports cable sphere — to take shots at them without offering a response.
But with the debut of Skip Bayless's new show on the upstart network making at least a dent in the ratings, ESPN is now firing back.
In an interview with Sports Illustrated's Richard Deitsch, top ESPN executive Burke Magnus — the network's executive vice president for programming and scheduling — is accusing Fox Sports 1 of "abandoning journalism" in a ratings gambit that he believes won't work.
I think they have made a big mistake in abandoning journalism and abandoning news and information completely for all debate. It is never going to be one thing for anyone. It's not one thing for us and never has been about one thing. We have a variety of opinion shows—or call them debate shows—that have been highly successful for us in a long time as part of an array of offerings including SportsCenter, live events and storytelling like E:60 and 30 for 30. It's that combination that has been successful. They may have a hit here or there with a particular show but it really needs to be more diverse than that in my opinion.
Magnus believes FS1 has only been able to generate headlines for itself when their on-air personalities and executives criticize the self-proclaimed "Worldwide Leader in Sports."
I think their strategy here has been — and frankly this part has worked — they are only getting headlines when they bash ESPN. It is almost never for the quality of what they do. That strategy is fine but at some point there has to be substance behind it. Otherwise, it's just noise.
Check out more of Deitsch's interview with Magnus here.
[h/t Awful Announcing]
[image via Leonard Zhukovsky – ShutterStock]
–
Follow Joe DePaolo (@joe_depaolo) on Twitter
Have a tip we should know? tips@mediaite.com
Joe DePaolo - Senior Editor