Fox Business President Backs Maria Bartiromo Amid Widespread Criticism of 'Softball' Interview With Trump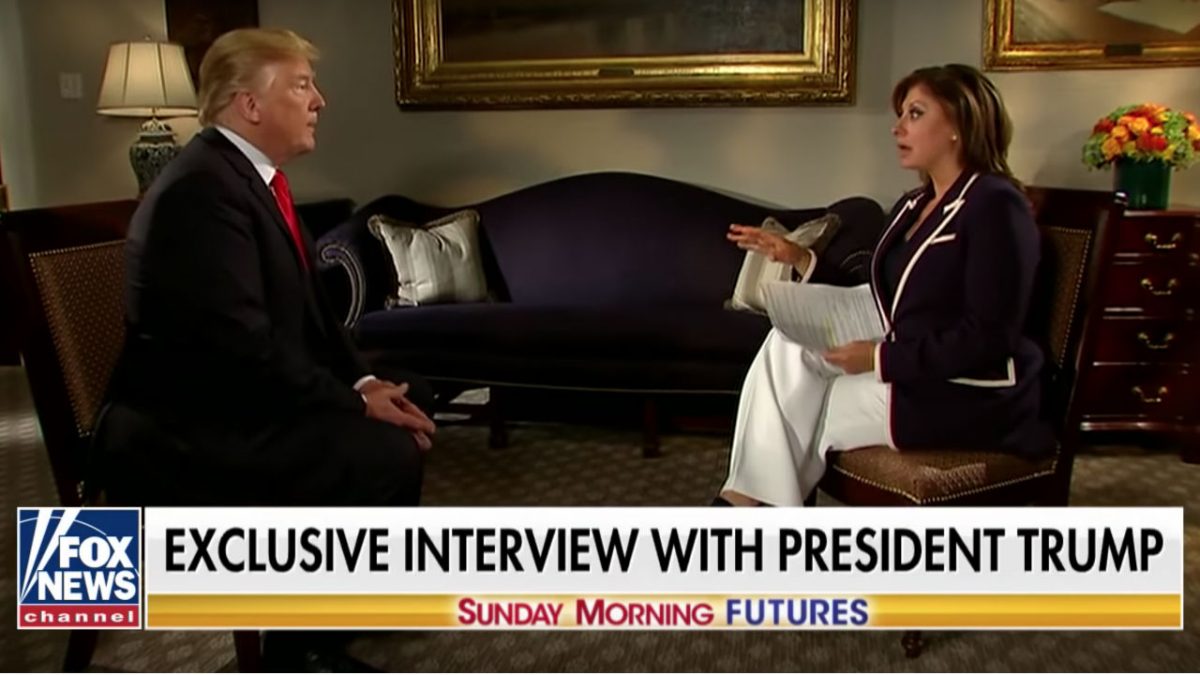 Fox Business' Maria Bartiromo interviewed President Donald Trump this past weekend and received criticism for asking softball questions.
The Daily Beast recently reported on Bartiromo's evolution into a very pro-Trump host on a very pro-Trump network. Recently, she actually said, "The DOJ, the FBI, the IRS, the CIA — they were all involved in trying to take down Donald Trump."
Her interview with Trump addressed a number of serious topics and she asked substantive questions, but it wasn't terribly hard-hitting.
And today Media Twitter criticized Bartiromo for not asking tougher questions:
Actual Bartiromo responses:

TRUMP: My tax cuts are great.
BARTIROMO: "I agree"

TRUMP: No collusion.
BARTIROMO: "I know"

TRUMP: Wall Street & farmers trust me.
BARTIROMO: "They do"

TRUMP: My tariffs are great.
BARTIROMO: "You're doing the right thing on pushing back on China"

— Aaron Blake (@AaronBlake) July 2, 2018
Compare the student journalism in my last tweet to this. Can you call it an interview if someone says bravo to every claim, truth or lie? Bartiromo isn't throwing softballs to Trump. She's marking down every swing as a home run. https://t.co/qTKpEsIxVV

— Barton Gellman (@bartongellman) July 2, 2018
fearless https://t.co/vLz7s0Y2WF

— John Harwood (@JohnJHarwood) July 2, 2018
When someone tells you that Fox isn't State Media, show them this -> https://t.co/7Gt83efs9O

— Josh Jordan (@NumbersMuncher) July 2, 2018
When Trump supporters say the media is biased, they simply mean that most journalists don't unequivocally agree with Trump when he makes false/subjective claims. Their vision of good journalism is Bartiromo's sycophancy, which would fit in very well in authoritarian state media. https://t.co/c4WlyxwZy8

— Brian Klaas (@brianklaas) July 2, 2018
Business Insider, in reporting on the criticism earlier, received a statement from Fox Business president Brian Jones defending Bartiromo and the interview:
"Maria Bartiromo's wide-ranging interview with President Trump made news on multiple fronts and elicited answers to numerous questions. We are proud of her hard work and continued success across each of her FBN and FNC programs."
[image via screengrab]
— —
Follow Josh Feldman on Twitter: @feldmaniac
Have a tip we should know? tips@mediaite.com
Josh Feldman - Senior Editor