How to Watch the Patriots-Chiefs NFL Thursday Night Football Game Live Stream Online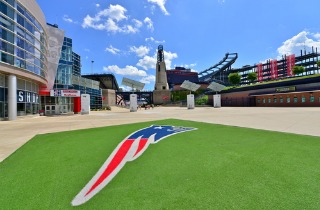 The NFL is back.
It's been a long wait since February. But finally, the pros are set to return to the gridiron.
As per usual, the defending champions will take the field in the Thursday night NFL season opener. In the third quarter of this past February's Super Bowl, that team seemed all but certain to be the Atlanta Falcons. Alas, the New England Patriots pulled off their comeback for the ages, and they are the ones who will have the honor of kicking off the 2017-18 NFL season.
The Pats, as ever, figure to be top contenders. Any team with Tom Brady under center always has a chance, no matter how weak the players around him. It so happens that his supporting cast this year looks outstanding once again. An already terrific offense should be even better with the return of Rob Gronkowski — who missed the end of last season due to a back injury. And a solid defense returns mostly in tact.
New England's foe Thursday night? Last year's AFC West winners — the Kansas City Chiefs. Kansas City had a strong regular season a year ago behind a balanced offensive attack led by quarterback Alex Smith, and a terrific defense which stymied many opponents in 2016. Can the Chiefs take the next step and make a run in the AFC playoffs this year?
Patriots. Chiefs. Foxboro. Thursday Night Football. This one cannot be missed.
Kickoff is at 8:15 p.m. ET. The game will be broadcast on NBC. Al Michaels and Cris Collinsworth have the call. NBC will stream the game on its website, or you can use either the NBC Sports app or the NFL Mobile app to watch on your phone or tablet. Those apps can be downloaded from Apple's iTunes store, or the Google Play store. A cable subscription is required for the free stream.
Have a tip we should know? tips@mediaite.com
Joe DePaolo - Senior Editor