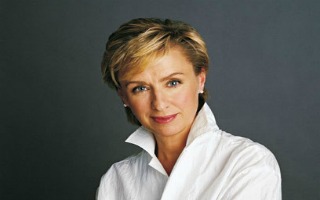 Tina Brown, Newsweek and The Daily Beast editor, attacked the late Andrew Breitbart in an interview on NPR on Tuesday, calling him a "right-wing radical blogger who just recently dropped dead," and a "provocateur." She also referred to his work as a "bastardization of journalism"

RELATED: Does The Michele Bachmann Newsweek Cover Make Her 'Look Crazy'?
The NPR host teed up a question to Brown on the state of modern-day journalism and a New York Times column by media writer David Carr titled "The Provocateur," received equal parts accolades and criticism for its posthumous analysis of the career highlights of conservative media pioneer Andrew Breitbart. "For good or ill (and most would say ill), no one did it like Mr. Breitbart," writes Carr.
Brown responded to the question by emphasizing her opinion that Breitbart's career had an entirely negative impact on the state of journalism.
During Hitler's German, there were 50 foreign correspondents in Berlin, which is an incredible index of the golden era of journalism. What we have, of course, in the era of today with Andrew Breitbart – the blogger, the right-wing radical blogger who just recently dropped dead in the early 40s – was, of course, the absolute opposite. It's really the degradation, in a sense, of the journalistic ideals of a William Shirer. It was the absolute opposite. Breitbart didn't report anything. What Breitbart did, really, was he was a provocateur. He was a death by 1,000 tweets. He was, you know, quite happy to take the flying sound bite – any sound bite – and misapply it in its context and create an absolute mayhem for the person concerned like he did for poor Shirley Sherrod who was the obscure official in the Agriculture Department. He gave the impression by the cutting of her words in a tape that he released that she was giving racially motivated financing decisions when she was doing the opposite. So this was really a, kind of, bastardization through the format of Web and tweeting and simply using the Internet as a tool for activism.
Brown's Newsweek has been the subject of a number of controversies since she took over as editor.
In August, 2011 Newsweek's cover story on Rep. Michele Bachmann (R-MN) showed her with eyes agape under the caption "Queen of Rage." Newsweek encountered a similar controversy in 2009 with a cover graced by former Alaska Gov. Sarah Palin in a jogging suit to accompany the magazine's cover story "How Do You Solve A Problem Like Sarah?"
UPDATE: At the time of the publication of "How Do You Solve A Problem Like Sarah?," Jon Meacham was Newsweek's Editor in Chief.
Listen to the segment below via NPR:
h/t Breitbart.com
Have a tip we should know? tips@mediaite.com