NY Times Public Editor Calls Out Paper For Writing Clickbait Instead of Covering Flint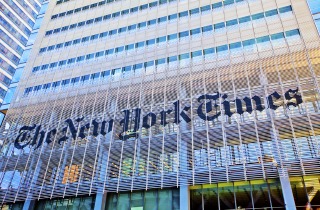 New York Times public editor Margaret Sullivan took the paper to task Wednesday for largely ignoring the story of Flint, Michigan's contaminated water when it could have made a difference, pointing out that it chose to print "trendy" stories instead.
Sullivan notes that a year ago, the Times did write a revealing piece on the questionable water quality and how Flint residents were struggling to deal with it. But after that, the paper largely ignored the story until it blew up on the national stage. When asked why they let the story die, Times editors told Sullivan that their Midwest reporters simply had too much on their plate covering stories like Ferguson, the Tamir Rice shooting, Rahm Emanuel's reelection, and Detroit's failing schools.
But Sullivan wasn't buying the argument that the Times lacked resources, pointing out how many clickbaity stories they did cover: "Enough Times firepower somehow has been found to document Hillary Clinton's every sneeze, Donald Trump's latest bombast, and Marco Rubio's shiny boots."
"There seem to be plenty of Times resources for such hit-seeking missives as 'breadfacing,' or for the Magazine's thorough explanation of buffalo plaid and 'lumbersexuals,'" she continued, citing actual Times stories. "And staff was available to produce this week's dare-you-not-to-click video on the rising social movement known as 'Free the Nipple.'"
"If the Times had kept the pressure on the Flint story, the resulting journalism might not have made the 'trending' list– but it would have made a real difference to the people of Flint, who were in need of a powerful ally," Sullivan concluded.
[Image via screengrab]
——
>>Follow Alex Griswold (@HashtagGriswold) on Twitter
Have a tip we should know? tips@mediaite.com